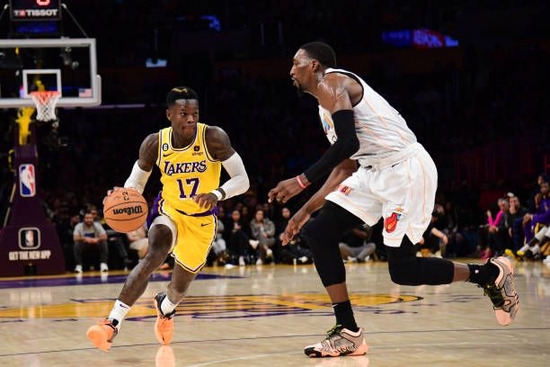 On January 5th, Beijing time, the Los Angeles Lakers played against the Miami Heat at home. In this game, the two teams fought fiercely in four quarters. In the end, the Lakers defeated their opponents and achieved three consecutive victories.
Batler's 27 points, 4 rebounds, 4 assists, Adeba about 30 points and 13 rebounds, Loury 11 points and 4 assists.
In terms of the Lakers, Schroder's 32 points and 4 steals, Wei Shao 21 points, 8 rebounds and 9 assists, and Bryant 21 points and 9 rebounds.
In this game, Anthony Davis and LeBron James were absent due to injuries, but Schroeda showed a strong desire for offensive after the opening, and the Heat would start to be overwhelmed.
In the first quarter, the Lakers led 32 to 23.After the debut of Wei Shao, although many mistakes had occurred, his assault made it difficult for the Heat to defend.Batler and Hero responded again and again, and the two sides entered a tug -of -war.
In the final stage of the game, the Heat has been biting the score, and Schroeda has repeatedly assumed.When River directly assisted the game, he directly assisted 2+1 under the basket.
At the last moment, Struis hit a three -pointer to help the Heat reduce the difference to 1 point.However, Schroder made a stable hit. Because the Heat did not suspend it, the Batler's three -pointer jumped in a jumper, and the Lakers won 112 to 109.