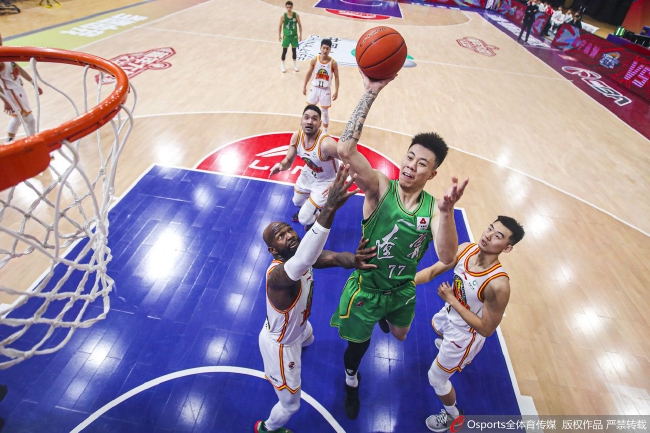 On January 2nd, Beijing time, in the 21st round of the CBA regular season, the Liaoning team defeated Jilin by 112-108 in overtime.
Liaoning team: Zhang Zhenlin 24 points, 14 rebounds and 6 assists, Kyle Fogg 38 points and 9 assists, Zhao Jiwei 6 points, 6 rebounds and 8 assists, 13 points in Fuhao, Jakar Sampson 11 points, and 10 points.
Jilin team: Jones 19 points, 17 rebounds and 16 assists, Jiang Weize 25 points, Jiang Yuxing 21 points, Cui Jinming 14 points, Ding Haoran 10 points, 10 points on behalf of Huaibo.
In this campaign, the core of the Liaoning team Guo Ailun was absent. The Jilin team was active in the first two quarters. It was 57-42 ahead of Liaoning 15 points in half.If you fight again, the Liaoning team gradually finds the feeling on the offensive end. Zhao Jiwei and Fog Ge continuously scored points. In the three quarters, Liaoning chased 8 points.
In the last quarter, the two teams played the playoffs' defensive steals. At 4 minutes and 26 seconds, the Liaoning team finally tied the score of 84-84.Sampson violated Cui Jinming, veteran Zhong Cheng also hit three points, and the Jilin team took the initiative again.
At the critical moment, Zhang Zhenlin hit a three -pointer, and then Jiang Yuxing's mistake was forced to be violated against Ford's foul. The situation was instantly reversed. There were 40 seconds left. The Liaoning team led 3 points.In the last 2 seconds, Jiang Weize received a three-pointer of Zhong Cheng's assists, and the two teams 98-98 entered the overtime.
In the overtime, the two teams played three times in three times. Ferg entered the net to help Liaoning lead 3 points in the last 40 seconds.The Jilin team can only adopt a foul tactics. Although Jiang Weize made a three-pointer, the hand was stabilized by 2 penalties. In the end, the Liaoning team won the Jilin team 112-108 in overtime.