The article is transferred from the public account: China International Chess Association

On the evening of December 2, Beijing time, the 2022 International Chess Federation Women's World Champions Candidate played the third round of the B Group B in Uzbekistan.The dark war defeated Coskinsk, grabbing the opportunity.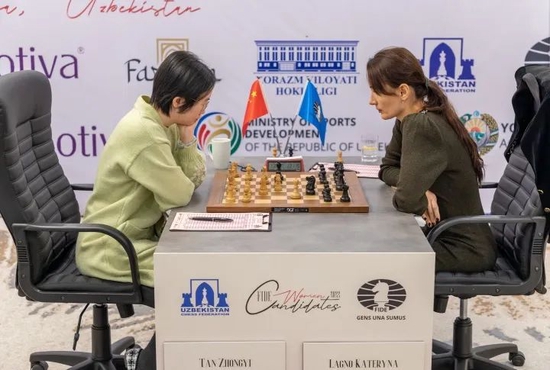 The game of Tan Zhongyi's and Ragono was relatively stable, and Ragono made new tricks, but Tan Zhongyi responded accurately.The two fought in the back wings, Raordino was mainly offensive, while Tan Zhongyi maintained the situation and was impeccable.Entering the endgame, although Tan Zhongyi was less than one soldier, in this situation, He chess was undoubted.
[Date "2022.10.31"]
[Round "01-03"]
[White "Tan Zhongyi"]
[Black "Lagno, Kateryna"]
[Result "1/2-1/2"]
[Whiteelo "2514"]
[Blackelo "2563"]
[TimeControl "5400+30"]
1.d4 d5 2.C4 E6 3.NF3 NF6 4.NC3 DXC4 5.E4 BB4 6.BG5 H6 7.BXF6 QXF6 8.BXC4 C5 9.O-O CXD4 10.NB5 QD8 11.QA4 NC6 12.Nbxd4 QA5 13.BB5 BD7 14.RFD1 QXA4 15.BXA4 NB8 16.BXD7+ NXD7 17.RAC1 NF6 18.Nb3 O-O 19.RD4 BE7 20.A4 RAC8 21.RDC4 RXC4 22.RXC4 RD8 23.NFD2 ND7 24.RC7 NC5 25.NXC5 RXD2 26.F3 BXC5+ 27.RXC5 RXB2 28.H4 G6 29.KH2 KG7 30.KG3 RB4 31.A5 B6 32.AXB6 AXB6 33.RC7 E5 34.RB7 KF6 35.H5 GXH5 36.KH4 KG6 37.RB8 RB1 38.RG8+ KF6 39.KXH5 B5 40.RB8 RH1+ 41.KG4 H5+ 42.KG3 RB1 43.KH4 KG6 44.RG8+ KH6 45.RH8+ KG7 46.RB8 KG6 47.RG8+ KH6 48.RH8+ KG6 1/2-1/2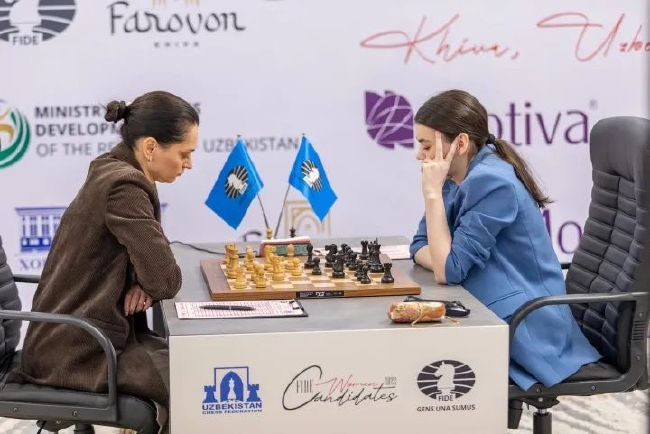 Entering the endgame, Coscin's elephant multiple soldiers made fatal mistakes at the critical moment to Goriacinna's Mado soldiers.Recognize.In this way, Goriacinna can enter the final B final in the fourth round of the game.
[Date "2022.10.31"]
[Round "01-03"]
[White "Koseniuk, Alexandra"]
[Black "Goryachkina, Aleksandra"]
[Result "0-1"]
[Whiteelo "2521"]
[Blackelo "2584"]
[TimeControl "5400+30"]
1.E4 E5 2.NF3 NC6 3.BC4 BC5 4.D3 NF6 5.NC3 H6 6.H3 d6 7.NA4 BB6 8.a3 be6 9.BXE6 FXE6 10.O-O-O 11.B4 QE8 12.C3 KH8 13.RA2 QF7 14.Re1 RAD8 15.Nxb6 AXB6 16.A4 NE7 17.A5 RA8 18.Qb3 BXA5 19.RXA5 NG6 20.D4 ND7 21.BE3 B6 22.RA2 RXA2 23.QXA2 EXD4 24.CXD4 NF6 25.QC2 NH5 26.RC1 NHF4 27.NE1 D5 28.KH2 DXE4 29.QXE4 ND5 30.ND3 QF5 31.QXF5 EXF5 32.RC6 RF6 33.RXF6 NXF6 34.BD2 KG8 35.F3 KF7 36.NE5+ NXE5 37.DXE5 ND5 38.F4 KE6 39.KG3 NE7 40.KF3 KD5 41.G4 G6 42.BE1 NC6 43.GXF5 GXF5 44.KE3 KC4 45.KE2 ND4+ 46.KE3 NE6 47.BD2 KB3 48.KE2 KC2 49.KE1 C5 50.B5 KD3 51.BA5 KC4 52.BXB6 KXB5 53.BA7 NXF4 54.KD2 KC4 55.BB8 KD5 56.H4 H5 57.BA7 KD4 58.BB8 NE6 59.KC2 KE3 60.KC3 F4 61.KC4 F3 62.KD5 NF4+ 0-1 will start the fourth round of battles at 18:00 today.Tan Zhongyi's and Ragono are still in a state of being divided into autumn. If the two continue to tie, they will enter the fast chess match tomorrow.
The new International Chess Women's World Champion Candidate Candidate is divided into two groups of A and B.Chinese chess player Lei Tingjie has won the winner of Group A.Tan Zhongyi participated in the group B competition and ended from November 29 to December 10.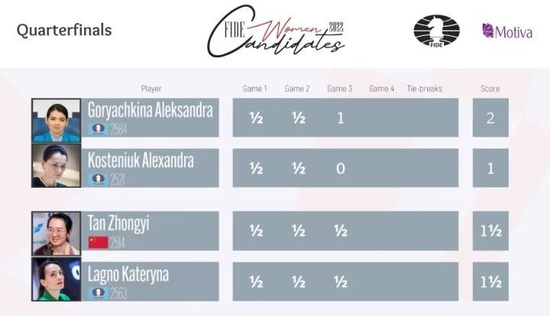 A total of eight players participated in the candidate competition. The Chinese chess players are Lei Tingjie and Tan Zhongyi. There are three Russian chess players: Goriachinna, Raordino and Coskins, and Muz in UkraineSister Chuke and Indian chess player Korineru.
Tan Zhongyi competed with three Russia in Uzbekistan.The winners in this group will play the final of the 6 -sets with Lei Tingjie next spring. The winner will challenge the current world champion Ju Wenjun.