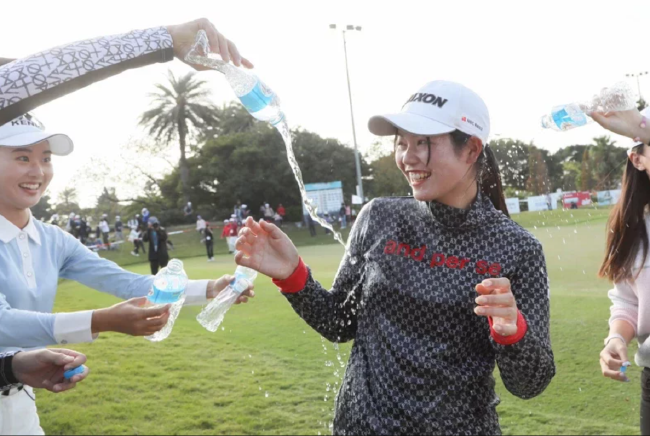 Sakurai Hearto
On January 10th, Beijing time, only a women's competition with world points was held worldwide.The Hitachi Charity Cup (Women's Tour), which has a total bonus of NT $ 10 million, was held in the East of Taipei.After the 2 -year -old girl Sakurai, the 18 -year -old girl in Japan won the championship, the world ranking rose to 133.
In the past year, Sakurai Heart has been fighting in the second -level tour of the Japanese tour.She won the five -championship and seized the bonus king, not only broke the record of the most year, but also set the record of the youngest prize.It will be upgraded to the first -level tournament of Japan next year. Sakurai Heart will win NT $ 2.5 million (about RMB 556,000) and 4 world points for the first time in Taipei. Its world ranking has risen from 153 to 133.It reached a new height in life.
Wu Jiayan, a 18 -year -old player in Taipei, Chinese, just won a female platform for a women's platform last week, ranked second in Taipei Oriental, scored 2.4 world points, and rose from 254 to 226.
Because there are no major women's events in the world, top players have spent the New Year holidays, and the top 20 in the world have not changed. Let's take a look at their specific rankings.
1. Gao Baozhen
2. Nery-Koda
3. Ata
4. Li Yizhi
5. Gao Zhenrong
6. Leccy-Thompson
7. Brook Henderson
8. Tian Renzhi
9. Jin Xiaoxiao
10. Sakayama Nai
11. Lyona-Malui
12. Celine Portir
13. Jennifer-Capuqiu
14. Park Minzhi
15. Lin Xizhen
16. Jiang Xiaolin
17. Chali Hull
18. Jessica-Koda
19. Hana-Green
20. Cui Huizhen