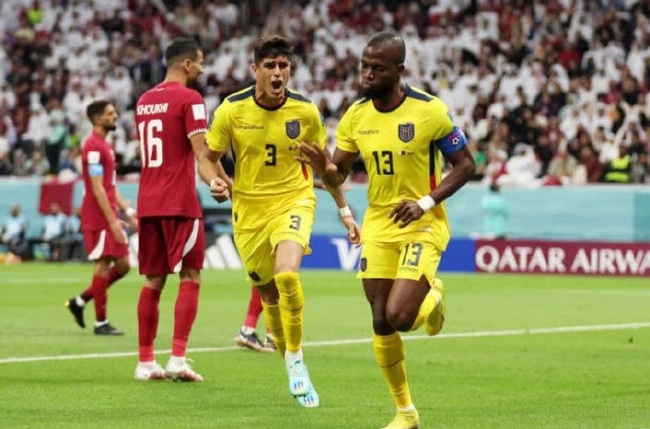 The hero of the World Cup in 2022 disrupted the host of the host Qatar.
This is the 13th, 33 -year -old Ecuador veteran Valencia.
Although the 47 -year -old electrical engineer Olsato will blow off the Balencia's opening of 1 minute and 45 seconds next Wednesday. But soon he didn't hesitate to give Ecuador a penalty.
This is the third penalty of the host in the history of the host in history.
Before the game, almost everyone was saying that during the 21 World Cup in the past 21 games, the host maintained 5 wins and 5 losses and 20 goals and only lost 4 goals.
Qatar spent $ 220 billion, and even the so -called internal breaking news said that Qatar spent $ 7.4 million, hoping Ecuador to lose.
However, Enmi Valencia wrote his own. He made a breakthrough in the penalty area, got a penalty kick and hit the penalty. Later, he scored the second goal for Ecuador, and decided the score of the game.
These two goals have also made Valencia the forward of the national team's most goals in the history of Ecuador.
In the 2014 World Cup, Valencia, who was only 25 years old, scored three goals for Ecuador. Although this did not help them qualify from the group, it also allowed him to be favored by the Premier League. From Mexico to the Premier League West Ham United.
In the hammer gang, Valencia played for 3 seasons from 2014 to 2017. However, he only scored 4 goals in the past two years, and he scored 8 goals and 5 assists.
In the second half of 2016-2017, she was leased to Everton and scored only 3 goals.
Later in the fall of 2017, Valencia returned to Mexico and kicked 3 seasons there.
In the summer of 2020, Balencia transferred to Fernebache, Turkey, and has been playing for now.
Here, he got the highest time after giving a football abroad. Especially this year, Valencia broke out.
In the first half of 2022-2023, Balencia played 12 times for Fernebache, scored 13 goals and 4 assists.
This is the moment of the highest state in his history, and the first half of the World Cup in Qatar is the most exciting moment in his football history.
Balencia was born in St. Lorenso, Ecuador, and he was poor at home when he was a child. When he joined Emelak, he had to sleep in a humble room under the club George Capwell Stadium, and it was easy to eat.
In August 20, his sister was held hostage by a armed gang in Santa Lorenzo and was detained for 10 days.
It is reported that she was released after paying a certain ransom.
With two goals in the unveiling battle, Balencia was selected as the best player on the spot of the World Cup in the World Cup in 2022.
(Zhou Chao)