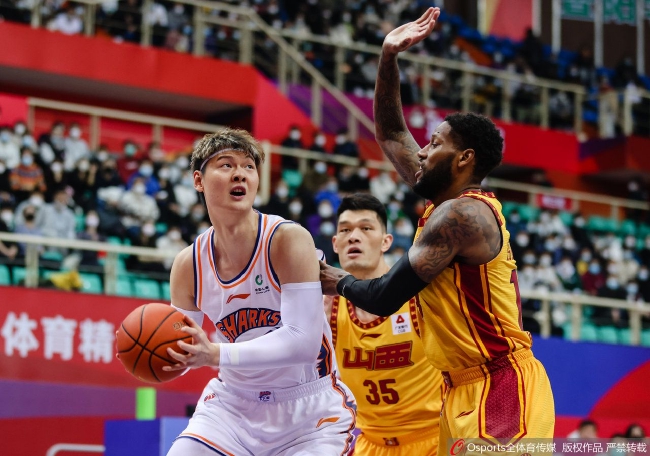 On January 7, Beijing time, the 23rd round of the CBA regular season, Shanxi team 113-132 lost to the Shanghai team.
Shanxi team: Weims 19 points, Xing Zhiqiang 13 points and 8 rebounds, Zhang Ning 23 points and 11 rebounds, Feld 34 points, 7 rebounds and 7 assists, Changlin 10 points.
Shanghai team: Wang Zhelin 21 points, 8 rebounds, 4 assists and 3 steals, Yan Pengfei 23 points and 12 rebounds, Bradso 22 points, 5 rebounds and 6 assists, Trinting 21 points and 9 assists.
Wims scored 7 points in the beginning and started 10-4 Shanxi.Bladesso frequently mobilized the attack, the Shanghai team gradually completed the overtake, and the first quarter was 34-24 ahead of Shanxi.In the second quarter, the two teams fought against the attack, and the scores increased alternately, ending halftime, and Shanghai 73-60 lead.
In the third quarter, Yan Pengfei was very active in facing the old owner. Not only did he frequently score points in the basket, he also assisted Wang Zhelin and other teammates many times. In the tug -of -war, the Shanghai team gradually expanded the difference to about 20 points.-81 leads Shanxi.
In the last quarter, the Shanxi team, which was behind, did not give up. Ge Zhaobao and Changlin were chisent one by one in the inside. Wims continued to break through the killing. The Shanxi team tried to reduce the difference to 10 points.At the critical moment, Luo Hanchen hit the momentum of the Shanxi team's counterattack. In the end, the Shanxi team lost to the Shanghai team 113-132.