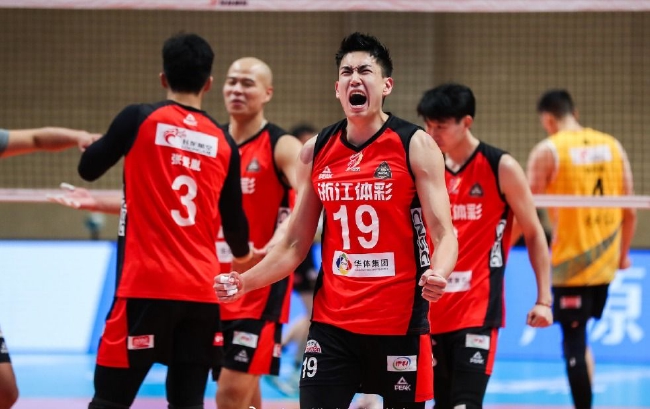 Zhejiang Men's Volleyball Team
On the evening of December 30, Beijing time, the first round of the Chinese men's volleyball Super League semi-finals in the 2022-2023 season ended in Baoding, Hebei.The defending champion Beijing Auto 3-1 defeated Shandong Ruchen and Zhang Jingzhang to lead the Zhejiang Sports Lottery 3-2 to win Shanghai Guangming.
Beijing Automobile 3-1 Shengshan Sports Lottery
Four foreign aid's defending champion defeated Zhejiang 3-1 and won the initiative to advance to the finals. The four innings scores 25-20, 25-10, 22-25 and 25-22.
Beijing 's response to Elnands (Cuba) won 23 points, focusing on Jashk (the United States) to contribute 19 points, and the deputy attack Holt (United States) and Deng Xinpeng scored 16 points and 13 points respectively.Shandong's main attack Li Lei and the response king scored 13 points together, and the main attack Zhai Dejun scored 9 points.
Zhejiang Sports Lottery 3-2 wins Shanghai Guangming
Zhejiang once again became the final winner in the battle with Shanghai, 3-2 to defeat the opponent, successfully seized the opportunity to advance to the finals, the five games scores 18-25, 25-19, 25-18, 24-26 and 18-18-16.
After the defeat of 18-25 in the first game, Zhejiang changed the partner of Li Chengkang and Zhang Jingzhang to focus on the partner.
In the fourth inning, Zhejiang failed to pursue the victory with 3 points.After the end of the game reached 24 square meters, Li Chengkang jumped out of bounds and Bednotz successfully counterattacked. Shanghai won 26-24 and chased the score into 2 draws.
The 10-12 behind the decisive bureau was tied to 12 square meters with Rao Shuhan's single-person block.After 13 draws, Zhang Guanhua attacked the border, and Shanghai 14-13 overtaken the game.Zhang Jingzhang attacked later, and helped Zhejiang to chase to 14 square meters.After 16 draws, Zhang Jingzhang's strong attack and Beidnitz attacked the border. Zhejiang won 2 points and 18-16, and 3-2 picked Shanghai.
2022-2023 season Chinese men's volleyball Super League 8th group 7th competition day is as follows:
In the first round of 5 to 8 cross-semifinals, Sichuan 0-3 lost Tianjin Food Group (15-25, 22-25, 14-25)
5 to 8 cross semi-finals in the first round of Jiangsu Nanjing Radio and Television Cat 0-3 Lamous Hebei Baoding Woli (23-25, 27-29, 20-25)
The first round of the first round of the cross semi-finals of Beijing Automobile 3-1 victory in Shandong Ruchen (25-20, 25-10, 22-25, 25-22)
The first round of the first round of the cross semi-finals of Zhejiang Sports Lottery 3-2 wins Shanghai Guangming (18-25, 25-19, 25-18, 24-26, 18-16)