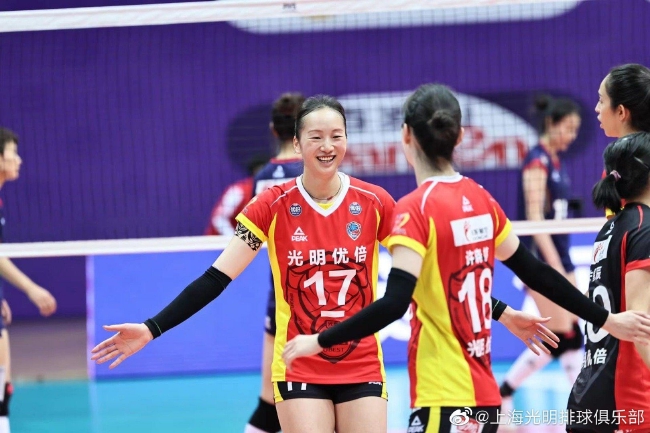 Shanghai Women's Volleyball Team
On the evening of November 21, Beijing time, the first day of the first stage of the Chinese Women's Volleyball Super League in the 2022-2023 season of the Chinese Women's Volleyball Super League ended in Huai'an, Jiangsu. Shanghai Guangming Youbei 3-0 Light 3-0 to achieve a 7-game winning streak; Beijing Automobile 2-3 lost to Tieguanyin, Anxi, Fujian, and the national player Wang Yunqi won 23 points and it was difficult to save the Lord; The ancient town of Xitang won the 6th victory in the season.
Shanghai Guangming Youbei won 3-0 victory over Sichuan
In the face of Sichuan, who played for the first time in the new season, Mexico's main attack on the Shanghai Women's Volleyball Team, which helped Brido, easily broke through the barrier, led 7-game winning streak, and the score of three innings was 25-20, 25-18 and 25-15.
Shanghai's main attack Zhong Hui and the deputy attack Chen Houyu both scored 15 points, receiving Wang Yi's contribution of 14 points, the main attack Bridio scored 13 points, and the secondary attack Gao Yi scored 8 points. Sichuan's main attack Miao Yiwen scored the highest 14 points of the party, and the main attack Yuan Guo scored 8 points, and he responded to Tang Weidan 5 points.
Fujian Anxi Tieguanyin 3-2 wins Beijing Automobile
In the confrontation with Beijing, Fujian encountered a stubborn obstruction of the opponent. Only the five innings of the five games broke through 3-2. The danger won the fifth game of the season. And 15-12.
Ye Jiajing, the main attack of Fujian, scored the highest 18 points of his own. The bench has scored 15 points in the bench, and Zheng Yixin and the main attack Zhuang Yushan contributed 12 points and 11 points respectively. The main attack Wang Yunzheng in Beijing won 23 points and won the scoring king. He responded to Casanova (Cuba) and scored 21 points. Zhang Yu scored 12 points in the second offense. Get 9 points.
Jiangsu Zhongtian Steel 3-0 victory over Zhejiang Jiashan Xitang Ancient Town
The Jiangsu women's volleyball team in Gong Xiangyu was easily won 3-0 in the confrontation with Zhejiang, and won the sixth victory of the season. The scores in the three innings were 25-18, 25-10 and 25-17. (Caucasus)