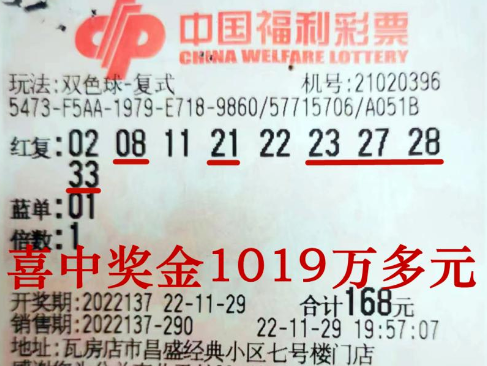 On the evening of November 29, 2022, Fucai Two -color ball was awarded at the 2022137th issue, 8 prizes in the first prize in the country, and a single bonus of more than 7.62 million yuan.
The 21020396 Fucai sales outlets of the Wakifangshang Classic Community in Dalian City, with a 9+1 duplex ticket, 1 bet first prize, 1 bet first prize special award, 18 bet third prize, 45 bet fourth prize, Twenty -five prizes, total bonuses totaling more than 10.19 million yuan.
This is the ninth two -color ball prize in Dalian in mid -2022. It is also the first time that Dalian won the first prize special prize in 2022 in the start of the 2022 billion major prize.
A few days ago, the prize winner appeared low -key to the Dalian Fucai Center to complete the redeeming procedure.Regarding the experience of winning the award, Caiyou just said with a low -profile manner: "It's all luck, and never thought of being able to win such a big prize."
It is understood that Mr. Chen (Hua Name), the winner of the 10 million prizes, is an old friend of Fucai. He likes two -color ball games and often buys. Each period is to choose his own number.Lottery, I was lucky to win 10.19 million awards.Mr. Chen said that on the day of the lottery, he knew the lucky news. It was not until the epidemic was stable that he came to redeem the award.
The Wafang Store 21020396, which was won in the Grand Prize, set up a congratulatory arch to celebrate the good news of winning.