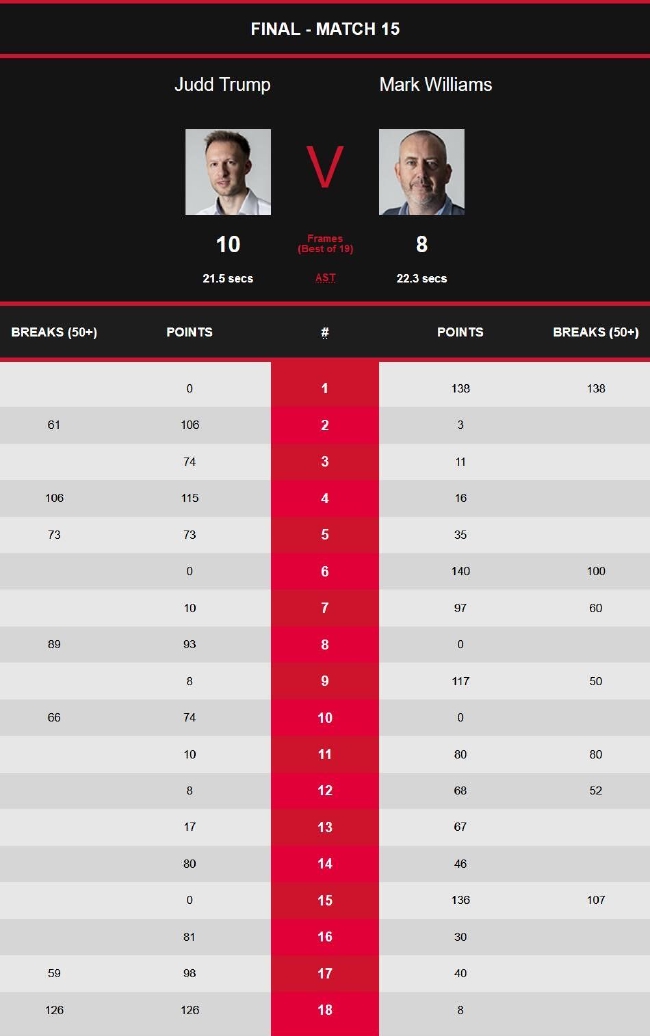 Jad-Trump 10-8 Mark-Williams
In the early morning of January 16, Beijing time, the finals of the 2023 Snooker Masters.The No. 3 Seed Seed Gard Trump, with 2 shots and 50+, won 3 games in a game with a large score of 7-8.Golden Left "Mark Williams won the second master championship and 250,000 pound championship prizes.
The 2023 Snooker Masters was held in Alexander, London, England, January 8-15, local time.From the first round to the semi -finals, the 11th game was adopted in the semi -finals, and the finals were 10 wins in the finals, which were divided into two stages.
Due to the suspected fake ball case, Zhao Xintong and Yan Bingtao, who were originally ranked Top16, were banned. Therefore, no Chinese players played in this masters.The top of them participated in the Iranian player Hussein-Vaei and David Gilbert.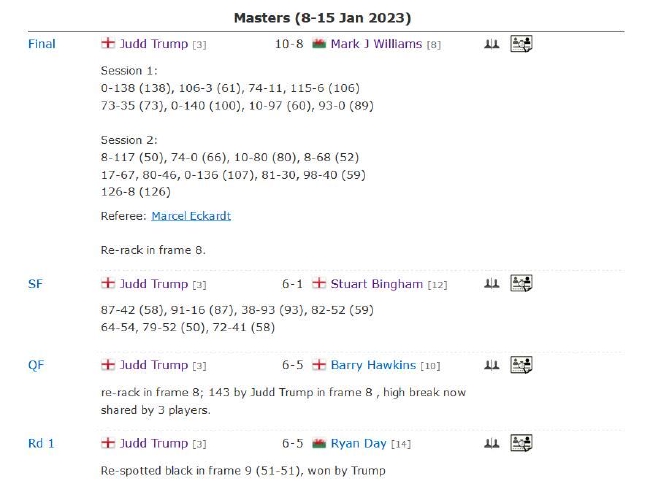 Jade-Trump's championship journey
In this master competition, many competitions are low-ranking seeds to defeat high-ranking seeds, except for the only Seed Seed Seed Gard Trump.In the previous competition, he first two consecutive games with a large score of 6-5, No. 14 Seeds, Wales Player Ryan Daihe Barry Hawkins No. 10, and then scored 6-1 in the semi-finals.Stewart Binham, No. 12 of the victory match, reached the finals.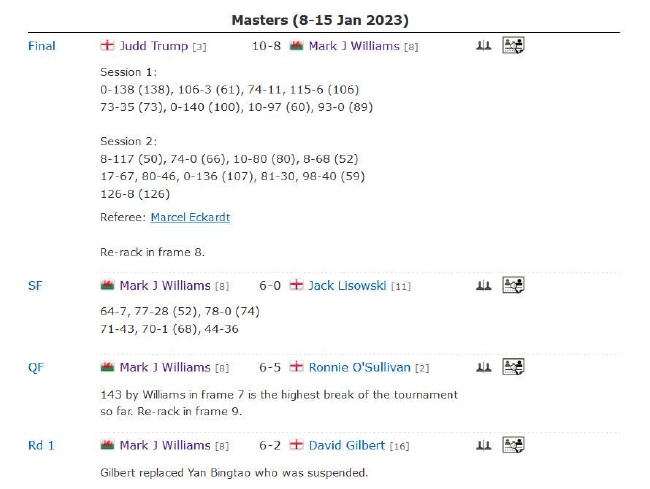 Mark-Williams' way to advance
And his opponent No. 8 Seed Mark Williams was the No. 15 seed Gilbert, who defeated Yan Bingtao with a large score of 6-2, and 6-5.Nigeron and 6-0 sweeper Jack Lisovski, the 6-0 sweeping match, advanced to the final.
The finals are ups and downs.In the first game, in the first game, Mark Williams bumped 138 points for a single shot, winning 138 (138) -0 first.But then, Jade Trump broke a hundred and 2 shots 60+, with 106 (61) -3, 74-11, 115 (106) -16 and 73 (73) -35 winning 4 games., A large score 4-1 overtake.
Next, the "Golden Left Hand" one after another in two consecutive games, 1 shot of a hundred and 1 shot, 60+, and 2 games with 140 (100) -0 and 97 (60) -10 in a row to chase the score to 3-4.However, in the eighth inning, Trump once again scored a single shot of 89 points, winning a game with 93 (89) -0, and the first phase of the first stage ended the first stage.
After the start of the second stage of the game, Mark Williams made a single shot 50+ in the ninth game, and pulled another game with 117 (50) -8, chasing 4-5 in a large score.In the tenth game, Trump won with a single shot of 66 points to win with 74 (66) -0, and continued to lead 6-4 in a large score.
However, in three innings, "Golden Left Hand" relying on 2 shots of 50+, with 80 (80) -10, 68 (52) -8 and 67-17 consecutive 3 games, the score was 7-6 overtake.In the 14th innings, Trump had been used many times, and the score was 7-7 square meters with 80-46.In the 15th inning, Mark Williams made the third individual's third shot and broke a hundred, winning a game with 136 (107) -0, and a big score of 8-7 again.
However, at a critical moment, Trump broke out again, grasping the opponent's successive mistakes, with a 1st and 1st shot 50+, he won 81-30, 98 (59) -40 and 126 (126) -8 consecutive victoriesIn 3 innings, the big score defeated Mark Williams 10-8, won the second master championship in his personal career, and the 250,000 pound championship bonus.