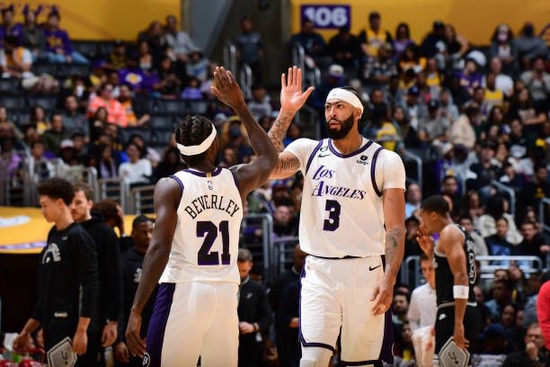 On November 21, Beijing time, the Los Angeles Lakers faced the San Antonio Spurs at home. The Lakers at the beginning of the battle started a high -quality offense and laid a huge advantage in one fell swoop. In the end, they won the opponent of 123 to 92 and achieved three consecutive victories.
In this game, Anthony Davis 30 points 18 rebounds, Russell Westbrook 10 points and 10 assists, River 21 points, Walker 14 points
In terms of the Spurs, Johnson 12 points, 3 rebounds, Sohan 12 points, 6 rebounds and 3 steals, Vessel 17 points and 4 rebounds
After the start, the Lakers attached to the inside line. He ruled the entire paint area alone and quickly pulled the difference to double digits. With the progress of the game, the Spurs gradually lost their offensive rhythm, and the defensive end was also leaking one after another, giving Wei Shao a lot of opportunities to drive teammates. At the end of the halftime, the Spurs lag behind with 48 points 66.
In the second half, the Lakers restricted the Spurs for six minutes and did not score a goal. However, after the thick eyebrows ended, the Spurs instantly played a wave of 10-0 attack waves, and the Lakers adjusted quickly. In the three quarters, the Lakers led the score of 95 to 67.
In the last twelve minutes, the game basically lost suspense, and the two sides successively put on pure substitutes to start training. In the end, the Lakers won their opponents at home and won the first three consecutive victories this season.
Both sides start:
Lakers: Davis, River, Walker, Beverly, Brown
Spurs: Vessel, Sohan, Jones, Jion, Johnson