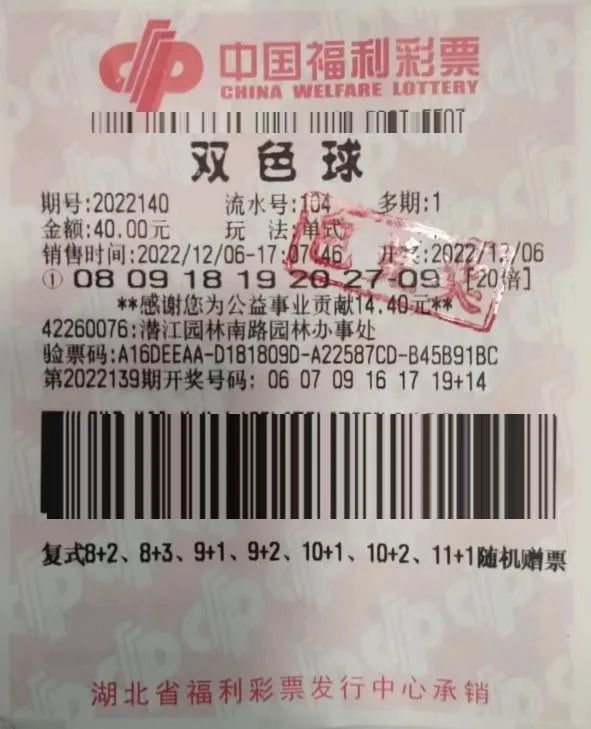 Winning lottery
On the evening of December 6, the 2022140 issue of Fucai opened the award number of 08, 09, 18, 19, 20, 27 + 15.In the current period of our province, there are 33 second prizes, with a single bonus of 31,300 yuan.
Among the second prizes of the 33 bets, 20 bets were monopolized by one person.The buyer received a prize of 627,000 yuan with a single vote.
On the morning of December 7, a pair of sisters and brothers came to the Provincial Fucai Center to redeem the prize.
The young man's surname Hu (Hua surname), in his 30s this year.The sister and brother did business in Qianjiang City, and the lottery was bought by Xiao Hu.
As soon as he settled, Xiao Hu said, "I really missed a million this time."
He explained that if the blue number was not selected, he would win the first prize.The first prize of this issue, plus the first prize special award, is more than 7 million yuan.20 Note, isn't it more than 100 million?
Interestingly, Xiao Hu's betting this time is full of confidence in the blue number.Two times more, it is also because of the blue number.Unexpectedly, the 6 red names he chose were right, and the blue number was wrong.
Xiao Hu is a loyal fan of a two -color ball, and it will not fall almost.Three months ago, he chose this set of numbers to start buying.He felt that he was not very accurate to choose the red number, so he only stared at the blue number.As long as you feel in place, you will double.This time is no exception.
His sister did not agree with Xiao Hu's saying "missing one billion yuan".She said that the lottery was originally lucky, and the number was only for fun.Therefore, the second prize of 20 bets, the bonus is more than 600,000, "it is good enough."
"In any case, we have won the award, and we still want to thank the lottery." Xiao Hu said, "I buy lottery tickets, come for love, and win the prize for luck, I will continue to support the welfare lottery ticket."