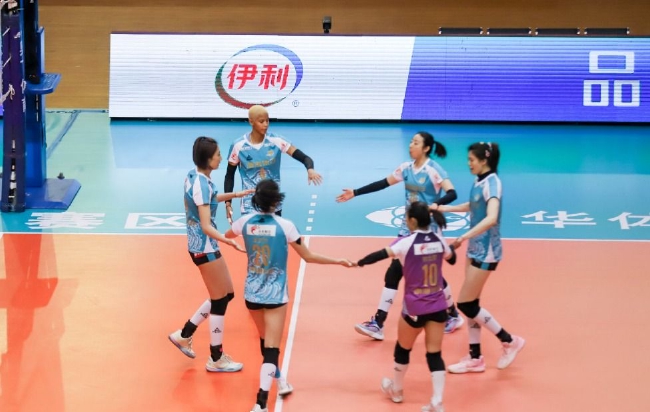 Tianjin Women's Volleyball Team
On the evening of December 25th, Beijing time, the first day of the 2022-2023 season of the Chinese Women's Volleyball Super League 8th and 16th round of the season competing for the end of Jiangxi Shangrao.With the influence of the incomplete lineup of multiple participating teams, the Tianjin Bohai Bank of Group G, Jiangsu Zhongtian Iron and Steel, and the Shenzhen Australian Tiger Crown in Group H, and Shanghai Guangming Youbei defeated their opponents to capture the red.
Group H: Shenzhen Australian tiger celong 3-1 victory over Shandong Rizhao Steel
In the face of Shandong, who only played in the battle and was forced by the national team's deputy attack, Yang Hanyu's main attack, the main lineup of the Shenzhen women's volleyball team frustrated the opponent 3-1, and won the top 8 games.29, 25-17 and 30-28.
Shenzhen's main attack Bichenko (Ukraine) scored 21 points and contributed 17 points in response to Dana-Boskovic (Bosnia and Herzegovina).Ke (Azerbaijan) and Xue Yizhi scored 14 points and 13 points respectively.Shandong's response to Claig (Cuba) was difficult to save the leader with 28 points. The main attack Song Liqi scored 15 points. Yang Hanyu, the national player who served as the main attack and returned to the sub -attack position in the first two innings, scored 11 points.
Group H: Shanghai Guangming Youbei 3-0 wins Beijing Automobile 3-0
In Beijing, Wang Yunzhang and other Lords who were absent and had to be attacked by the main capture of the free people. The neat Shanghai women's volleyball team showed a more obvious advantage.-14.
Shanghai's main attack Zhong Hui scored 17 points for the score king. The main attack of Brido (Mexico) contributed 13 points and won 11 points in the second offense.Beijing's deputy attack Wulkkova (Bulgaria) scored 10 points for the team, and scored 9 points in response to Casanova (Cuba).
Group G: Tianjin Bohai Bank 3-0 victory over Liaoning Donghua
Liaoning, who was absent from Duan Fang and others, although the main attack of the Tianjin women's volleyball team, Chen Boya and the deputy attack Zhang Shiqi could not play, but Li Yingying and Walgas' two heavy artillery still firmly grasped the initiative.The three games scores 25-20, 25-11 and 25-11.
Group G: Jiangsu Zhongtian Iron and Steel 3-0 victory over Fujian Tieguanyin
Although Guojia Gong Xiangyu did not follow the team to go to Shangrao for offense, the Jiangsu Women's Volleyball Team was still relatively complete.Faced with Fujian, who had only seven players who participated in the competition and could not even send free people, the Jiangsu team successfully broke through the level in 3-0, and the scores in the three innings were 25-17, 25-14 and 25-20.
The 2022-2023 season Chinese Women's Volleyball Super League 8th Game Day 2 and the 17th round of the season are as follows:
December 26:
13:00 H: Shandong Rizhao Steel VS Shanghai Guangming Youbei
15:00 G: Liaoning Donghua VS Jiangsu Zhongtian Steel
17:00 G: Fujian Anxi Tieguanyin VS Tianjin Bohai Bank
19:30 H group: Beijing Automobile vs Shenzhen Australian tiger Caulonghua