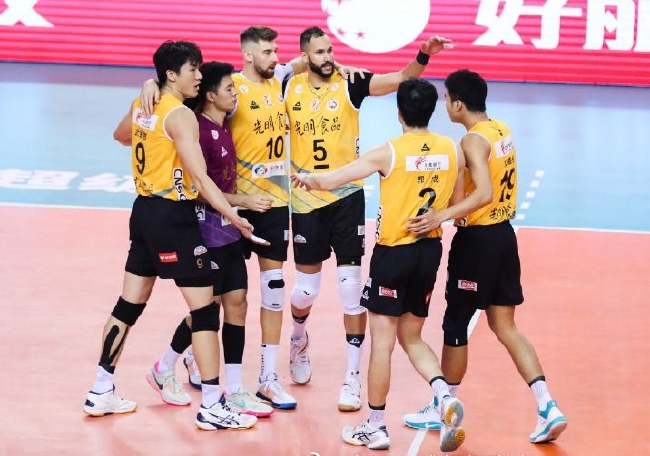 On the evening of December 8th, Beijing time, the first stage of the first stage of the Chinese men's volleyball super league in the 2022-2023 season ended, and the top 8 teams came out.In the last runner -up, Shanghai Guangminghao won 13 consecutive victories and won the top 38 points.10 wins and 3 losses Shandong Ruchen, 9 wins and 4 losses Beijing Automobile Beijing Automobile 29 points, ranked 2nd and 3rd.Jiangsu Nanjing Radio and Television Cats and Shenzhen Baoan Ming Jinhai both won 7 wins and 6 losses and 20 points.
Today, the China Volleyball Association officially issued a notice, announcing the change of the competition system of the second to fourth stage of the current Super League, of which the top 8 of them were adjusted from the previous main guest field system to the competition system.
According to the rules of the competition, the top 8 of the 14th participating teams, the top 8 of Shanghai Guangming, Shandong Ruchen, Beijing Automobile, Zhejiang Sports Lottery, Hebei Baoding Wowli, Tianjin Food Group, Sichuan and Nanjing Radio and Television Cats in Sichuan and JiangsuFrom December 22nd to January 6 next year, he participated in the 1-8 finals in Baoding, Hebei; Shenzhen Baoan Ming Jinhai, Fujian Pingtan, Henan, Hubei Huangshi Dongchu Group, Yunnan University Dianchi College and Liaoning Donghua ranked 9By 14th, it will participate in the 9 to 14 finals in Qinhuangdao, Hebei from December 23 to January 4th.
The first stage of the first stage of the first stage of the Chinese men's volleyball super league in the 2022-2023 season is the final ranking:
1.Shanghai Guangming 13 wins 0 losses and 38 points
2.Shandong Ruchen 10 wins, 3 losses and 29 points
3.Beijing Automobile 9 wins, 4 losses 29 points
4.Zhejiang Sports Lottery 9 wins, 4 losses 28 points
5.Hebei Baoding Woli 9 wins, 4 losses 25 points
6.Tianjin Food Group 8 wins 5 losses and 23 points
7.Sichuan 7 wins and 6 losses 22 points
8.Jiangsu Nanjing Radio and Television Cat 7 wins and 6 losses and 20 points Integration: 26-24, scores: 1132-1084
9.Shenzhen Baoan Ming Jinhai 7 wins and 6 losses 20 points: 26-24, get lost points: 1069-1100
10.Fujian Pingtan 6 wins and 7 losses 18 points
11.Henan 3 wins and 10 losses 12 points
12.Hubei Huangshi Dongchu Group 2 wins, 11 losses and 6 points
13.Yunnan University Dianchi College 1 wins 12 losses and 3 points
14.Liaoning Donghua 0 wins 13 losses and 0 points