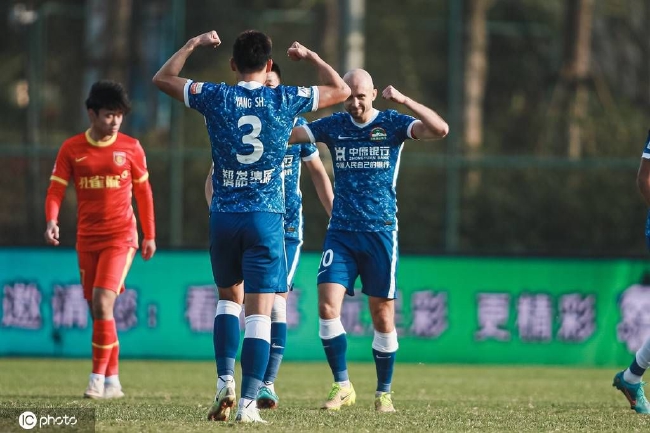 On December 30, the last round of the 2022 Super League competed, the Hebei team faced the Songshan Dragon Gate in Henan at home.In the first half of the game, Luan Haodong and Huang Zichang scored all the goals. In the second half, Chen Keqiang, Huang Zichang, Zhong Yihao, and Adrian scored 4 goals. In the end, the Henan team defeated the Hebei team 4-0 and won the league 6th place, while the Hebei team made-The 3 -point score ranking ended this season.
In the 51st minute, Songshan Longmen, Henan won the lead. Zhao Hongzhong passed on the right. Chen Keqiang stopped the ball in the penalty area and pulled the goal in the air. Henan led Hebei 1-0.
In the 63rd minute, Huang Zichang shot low, and Henan led the Hebei team 2-0.
In the 67th minute, Huang Zichang sent an assist. Zhong Yihao adjusted his left foot to push the door with his right foot in the penalty area. Henan led the Hebei team 3-0.
In the 81st minute, Aderian scored a long shot after the ball was adjusted at the front of the penalty area. Henan led the Hebei team 4-0.
Hebei Team: 18-Guo Hanru (U23), 3-Luan Haodong, 4-Pan Ximing (46 '24-Zhang Yu (U23)), 14-Chen Yunhua (U23), 16-Liu (73′ 32-Ding Haifeng), 22 22-Ren Wei, 29-Yang Chenyu (U23) (80 '39-Luo Shipeng (U23)), 20-Gao Huaze, 11-Muchen (U23), 38-Zhang Wei (U23) (55′ 26- Huang Yonghai (U23)), 45-Zhao Ziye (U23) (73 '17-Song Xinsao (U23))
Songshan Dragon Gate, Henan: 19-Wang Guoming (83 '1-Shi Chenglong (U23)), 2-Liu Yixin (U23) (64' 29-Zhong Yihao), 3-Yang Shuai, 26-Liu Jiahui (U23) (71 '4-Luo Yan), 27-Niu Ziyi (U23), 6-Wang Shangyuan, 10-Adrian, 15-Du Zhixuan (U23), 16-Parman River-Kuyu (U23) (46 '21-Chen Keqiang (U23)), 8-Huang Zichang, 32-Han Dong (U23) (46 '39-Zhao Hongluo)