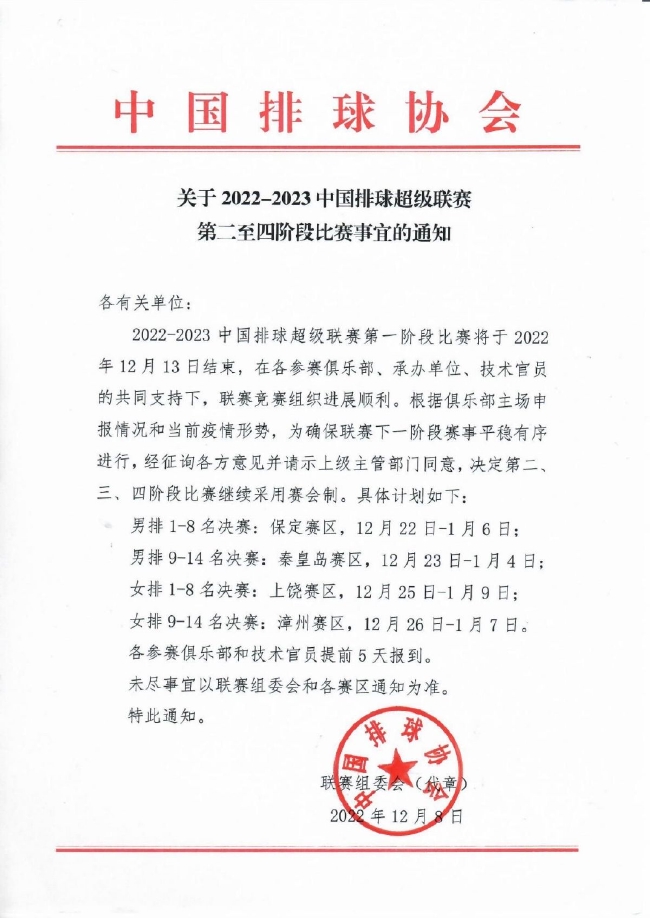 On December 8th, Beijing time, the China Volunteer Association issued a notice announced that the second to fourth stage of the 2022-2023 season of Super League will be changed from the previous main and away system to the competition system, respectively in Baoding, Qinhuangdao, Shangrao and Zhangzhou 4, 4, respectively.Hold.
Due to the impact of the prevention and control of the epidemic in various places, there are many variables in the first stage of the first stage of the Super League this season, and many times or delays have occurred many times.In view of this, after consultation with the opinions of all parties, the League Organizing Committee decided to follow the competition system in the second to fourth stage.
2022-2023 The 1 to 8 finals of the Super Men's Volleyball League will be held in Baoding, Hebei from December 22 to January 6 next year.Jiangxi Shangrao was held.
In the second stage, the teams entering the top 8 will rank according to the first stage of the snake -shaped ranking, and divide them into G and H groups to conduct internal circulation matching.After that, there are three two-wins-to-line knockout match: G1-H4, G2-H3, G3-H2, G4-H1, the winner enters the 1 to 4 semi-finals, and the negatives enter the 5 to 8 semi-finals.The third phase of the semi -finals and the finals of the fourth stage will also adopt three two -win system.
The men's and women's volleyball teams 9 to 14 finals were held in Hebei Qinhuangdao and Zhangzhou, Fujian.The men's volleyball team is from December 23 to January 4 next year, and the women's volleyball team will match from December 26 to January 7 next year.The six participating teams will first schedule a single loop contest.The team that won the 5th and 6th team ranked 13th and 14th in the league; the top 4 teams will play 9 to 12 cross semi -finals and rankings, and the competition will adopt three two wins.(Caucasus)