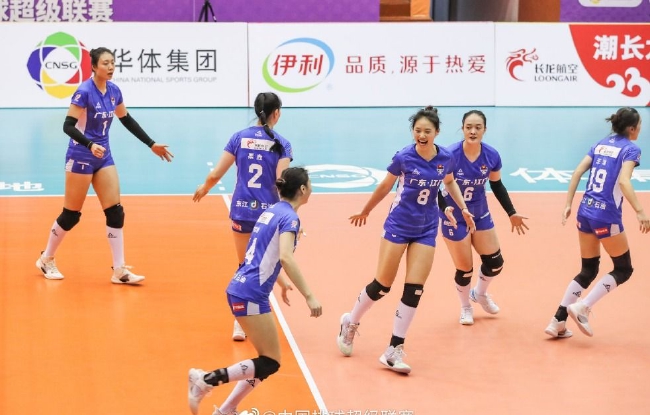 Guangdong Women's Volleyball Team
On the evening of January 2nd, Beijing time, the second round of the Chinese Women's Volleyball Super League 9 to 14 in the 2022-2023 season ended in Zhangzhou, Fujian.Guangdong Jiangmen Huazi and Henan defeated their opponents in both battles, respectively, and 3-1 in Xitang Ancient Town, Jiashan, Zhejiang defeated Hebei Rui to win the first victory.
Zhejiang Jiashan Xitang Ancient Town 3-1 Shenghe Beihai Rui
The Zhejiang Women's Volleyball Team has a stronger capability in the contest with Hebei. After the fierce battle, the four innings are 3-1, and the scores of the four innings are 25-23, 18-25, 25-23 and 25-20.
Zhejiang's main attack Chen Xiyue won 24 points, and Zeng Jieya scored 10 points.Hebei's main attack Zhuang Xinru scored 27 points and was still difficult to save the Lord. He responded to Gao Yan's contribution 21 points, and the main attack Zuo Zifan and the deputy attack Li Bing had 7 points.
Henan 3-0 Shengong Yunnan University Dianchi College
Henan has a high skill in the confrontation with Yunnan, and has successfully won two consecutive victories. The scores in the three innings are 25-21, 25-23, and 25-22.
Henan's starting main attack Wang Yiqun and the benchmaster Han Wenya both scored 14 points. In the first two innings, Cai Xiaoqing, who was in the second biography and the third inning, contributed 10 points, and responded to Duan Mengke's 8 points in the two games.Yunnan's response Sun Yiran won the highest 13 points in his own, and Liu Mengya and Hu Yuqin scored 10 points.
Guangdong Jiangmen Huadian 3-0 victory over Sichuan
In the competition with Sichuan, Guangdong has successfully seal opponents. After winning two consecutive victories, it will take the lead in this group with excellent forces.
Guangdong's main attack Wang Yifan scored 22 points. The bench appeared in the main two innings and scored 18 points in the second two innings. Chen Peiyan contributed 7 points.Sichuan's side attacked Yuan Guo and the main attack Tan Xinyi, who scored 11 points, and the deputy attack Wang Sijia scored 10 points.
The 2022-2023 season Chinese women's volleyball super league 9-14 qualifying games are as follows: as follows:
9.Guangdong Jiangmen Huadian 2 wins, 0 losses, 6 points gains and losses: 6-0
10.Henan 2 wins, 0 losses, 6 points gains and losses: 6-1
11.Zhejiang Jiashan Xitang Ancient Town 1 wins, 1 loss and 3 points
12.Sichuan 1 win, 1 loss and 2 points
13.Hebei Hairui 0 wins and 2 losses 1 point
14.Yunnan University Dianchi Lake College 0 wins and 2 losses and 0 points
2022-2023 season Chinese women's volleyball super league 9-14 lines in the 3rd round schedule are as follows:
January 3:
15:00 Zhejiang Jiashan Xitang Ancient Town VS Yunnan University Dianchi Lake College
17:00 Guangdong Jiangmen Huabe VS Hebei Hairui
19:30 Henan vs Sichuan