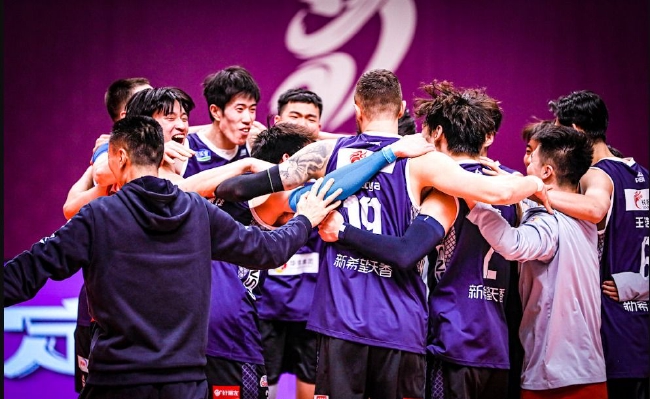 Hebei Men's Volleyball Team
On January 5th, Beijing time, the 2022-2023 season of the Chinese men's volleyball Super League 8th competition on the 12th match day in Baoding, Hebei.In the finals of the 5th and 6th finals, Hebei Baoding Woli 3-1 Like Tianjin Food Group won the total score of 2-1 in the three-game two-game competition.EssenceIn the finals of the seventh and 8 finals, Sichuan defeated Jiangsu Nanjing Radio and Television Cat 3-1 in Sichuan, and won the seventh place in the current Super League in the three-game competition.
5. 6 finals finals: Hebei Baoding Woli 3-1 victory in Tianjin Food Group
Hebei and Tianjin are the two faster teams this season.After four games, the two parties have a stronger competitiveness of the Hebei Men's Volleyball Team. They have won 5th in the victory and victory. The scores of the four innings are 25-21, 17-25, 25-13 and 25-23.The defeated Tianjin team ranked 6th.
Hebei 's response to Wen Zihua scored 24 scores as the score king, focusing on Bo Luyang (Ukraine) and scored 12 points.Tianjin's main attack Du Haixiang scored 14 points, followed by Nikonov (Russia) to contribute 14 points, and maintained 11 points in Pavlovic (Serbia).
7. Eight finals finals: 3-1 Sichuan 3-1 Shengjiang Nanjing Radio and Television Cat
The Sichuan Men's Volleyball Team was high in the confrontation with Jiangsu. After the fourth innings of the fourth innings, he won the 7th to win the 7th. The scores of the fourth innings were 25-20, 25-19, 13-25 and 28-26.The defeated Jiangsu team ended 8th.
Guo Shunxiang, the response to Sichuan, won 24 points and won the scoring king, and he attacked Tian Cong and scored 14 points.Gu Qinfan in Jiangsu scored the highest 23 points in his own side, and doubled Hongxin and Wang Wenjun scored 14 points and 10 points.
At this point, the 2022-2023 season of the Chinese men's volleyball super league 3 to 14 ranks all determined, and the detailed rankings are as follows:
3.Zhejiang Sports Lottery
4.Shandong Richen
5.Hebei Baoding Woli
6.Tianjin Food Group
7.Sichuan
8.Jiangsu Nanjing Radio and Television Cat
9.Henan
10.Shenzhen Baoan Ming Jinhai
11.Fujian Pingtan
12.Hubei Huangshi Dongchu Group
13.Liaoning Donghua
14.Yunnan University Dianchi College