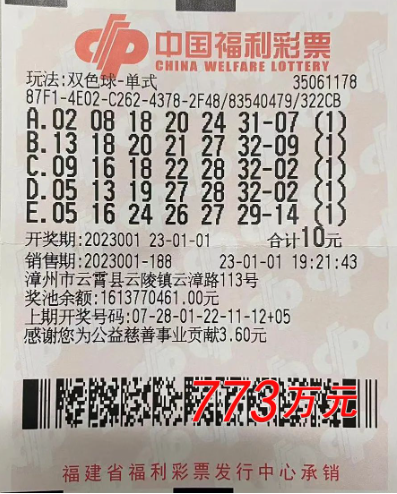 Winning lottery
On the evening of January 1st, Fucai Two -color Ball No. 2023001, the first prize of 7.73 million yuan in the nation's 7 betting bonus reached 7.73 million yuan.Fujian lottery buyers welcomed the new year's opening, and harvested 1 of them. The award of the award fell in the Fuxi 35061178 Betting Station at Yunzhang Road, Yunling Town, Yunling County, Zhangzhou City. The winning lottery is a single ticket.
It is understood that the prize winner Mr. Huang (Hua surname) has more than ten years of lottery purchase experience. He said: "I usually buy double -color balls, and other games have played less. Each period of two -color ball has been bought for 10 yuan. For more than ten years, for more than ten yearsI haven't won any awards. I didn't expect to win more than 7 million this time, it's really surprising! "
Asked how the winning number came from, Mr. Huang said with a smile: "I usually like to study the number. I will look at the number table to study the number before buying a double -color ball.According to the number table, two of them were changed. I didn't expect to win the award. After I learned that the winning prize at night, I called my daughter to share the joy. The family was excited and did not sleep all night. "
For the use of this bonus, Mr. Huang intends to have a bank first, and then make plans.He said that he will continue to buy lottery in the future, maintain a normal heart, enjoy the fun of playing, and support public welfare.