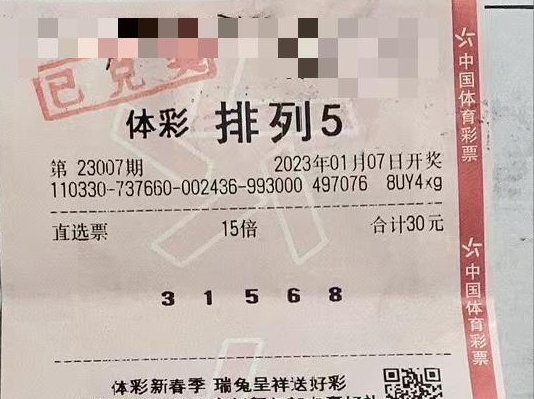 Early in the morning on January 9th, Luckyer Su came to the Ningbo Sports Lottery Sports Center to receive the 1.5 million yuan award won in the 23007 issue of the sports lottery."I have sent two 1.5 million prizes to Ningbo, which makes everyone can't help but feel that this year is really popular.
Mr. Su said that he is a loyal fan of the sports lottery, and has followed the sports lottery for many years. Among many gameplay, he prefers "Arrange 5" because the "arrangement 5" has fewer numbers and the number selection is relatively simple, and he likes to keep the number.The bet number "315 6 8" has been guarding for many years.
Mr. Su introduced that the inspiration for choosing this injection number is from the postal encoding "315600" in Ninghai County. "8" is the number of his hometown of Huangtan Town.The number "3 1 5 6 8", he has been guarding the number of bets, almost not falling.
Ms. Zhao, 3302021006 Sports Lottery, Ms. Zhao, No. 131 Meteorological North Road, Yuelong Street, Ninghai County, also shared that Mr. Su is an old customer in his store and is very attached to "Arrange 5".I also trust.After learning the winning, Mr. Su also shared the joy of winning the prize with Ms. Zhao as soon as possible, and consult her in detail about the prize -related matters.
After receiving the prize, Mr. Su excitedly stated that his persistence for many years has finally gained a surprise. Of course, it is also indispensable for luck. The new year will gain good luck. He hopes that this good luck will always be with himself.