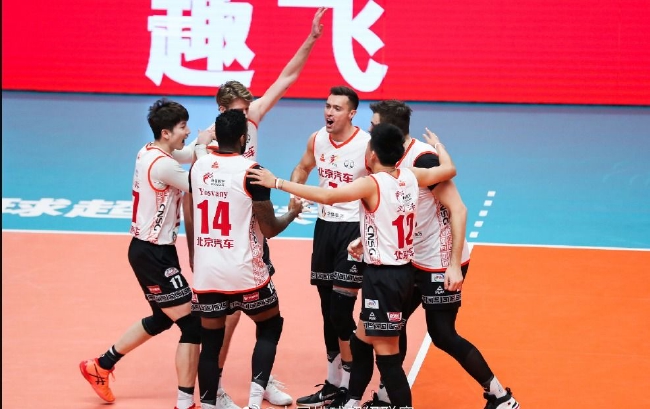 Beijing Men's Volleyball Team
On the evening of January 4th, Beijing time, the first round of the first round of the Chinese men's volleyball Super League finals in the 2022-2023 season ended in Baoding, Hebei.The defending champion Beijing Automobile 3-1 Like Shanghai Guangming, with a total score of 1-0 in the three-game series of games, and the four inning scores were 25-23, 16-25, 28-26 and 26-24.
Beijing launched the main attack Liu Libin, Jashk (the United States), the deputy attack Holt (United States), and Schikleidov (Belarus), in response to Elandus (Cuba), the second pass Liu Ze and the free man Han Huangguang.Shanghai first appeared in the main attack of Hutorner (Italy), Bednotz (Poland), the deputy attack Zhang Zhejia and Rao Shuhan, which responded to Julio Sabi (Shanghai), the second pass, Guo Cheng and the free man Qu Zongzonghandsome.
In the first game, Ernands jumped off the net and Guo Chengfeng killed Liu Libin's probe.After 11 square meters, Beijing was beyond 13-11 through Schkendov's blocked net. His fast ball was stopped by Rao Shuhan, and Shanghai chased to 14 square meters.After 18 ting, Beijing has been tied in Shanghai with 20-18 and 22-20.After 22 square meters, Jashk counterattacked the ball, and Beijing won the game 24-22.After Shanghai recovered 1 point, Jashk hit the 2nd position, and Beijing won a game 25-23.
In the second game, the Julio Sabi jumped off, which was very aggressive, and Shanghai 5-2 exceeded it.After Holt jumped to 5-6, Hu Antorner attacked the wheel, Zhang Zhejia twice served as a result, and Shanghai 9-5 was preceded.After Beijing chased to 9-12, Bedoritz took 2 points and led Shanghai 14-9.Shanghai's serving wheels in Guo Cheng continued to pressure 24-14.After the two rescue bureaus in Beijing, Jashk played out of the border, and Shanghai pulled back a game 25-16.
Beijing, who was behind the third inning, used Zhang Zhejia's fast break error to chase 5 draws.Zhang Zhejia quickly attacked the wheel and Hu Antorner's counterattack successfully, Shanghai 7-5 exceeded.Jashk's buckle was strong, and Beijing pulled the score to 14-9.In Shanghai, Zhang Zhejia's fast break and jumping reversed passive situation 20-19 to overtake.The two teams have been fighting until 26 draws. Jashk has a strong attack and Julio Sabi. Beijing won 28-26 in Beijing.
In the fourth inning, Beijing, 6-8 behind, first wired with Eldus's jumping to 8 draws, and then forced the opponent's card wheel in Jashk's serving wheel. The Schkereadov probe hit 12-8 to overtake 12-8.Shanghai's serve in Rao Shuhan rose up and used Liu Libin's mistakes 14-13.After 16 square meters, Holt jumped straight, Schkereadov and Joshk continued to block the network. Beijing pulled the score to 21-17.22-24.Zhang Zhejia's attack failed to stand up. Beijing won 26-24 and defeated Shanghai 3-1.
Beijing's main attack Jashk scored 25 points, and Alfn Des and Liu Libin scored 13 points. Two offensives of Stidov and Holt contributed 11 points and 8 points respectively.Shanghai's response to Julio Sabili scored 19 points, the main capture of Bednotz scored 18 points, and the main attacks of Hu Antorner and the deputy offense Rao Shuhan scored 12 points and 10 points respectively. Zhang Zhejia scored 9 points.
At 19:30 tomorrow night, Beijing Automobile and Shanghai Guangming will start the second round of the final.(Caucasus)