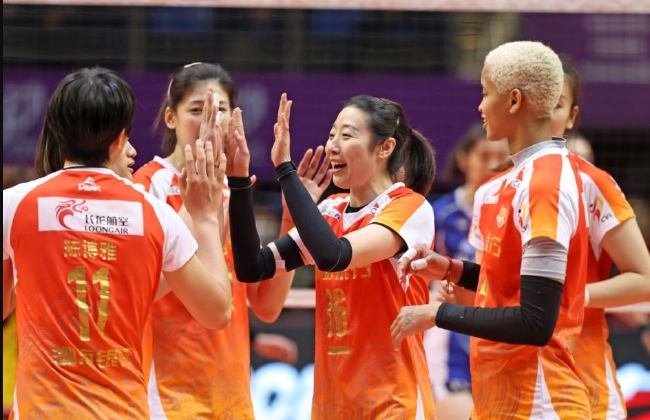 Tianjin Women's Volleyball Team
On the evening of January 8th, Beijing time, the 2022-2023 season Chinese women's volleyball super league final ended in Shangrao, Jiangxi.In the final round of the finals, the defending champion Tianjin Bohai Bank was 3-0 and then Shanghai Guangming was doubled. In the three-win series of the two-game series, the total score won the championship with a total score of 2-0.25-12 and 25-20.The Tianjin Women's Volleyball Team won the 15th championship of the team history with a 22nd win, and achieved the "4 consecutive championships" in the league for the second time.The defeated Shanghai team's seventh time the 6th championship was defeated by the runner -up.
Tianjin first sent the main attack Li Yingying, Chen Boya, the deputy attacked Zhang Shiqi and Wang Yuanyuan, and responded to Valgas (Turkey).Shanghai's starting lineup is to attack Zhong Hui and Brido (Mexico). The deputy attack Chen Houyu and Gao Yi, responding to Ouyang Qianqi, the second biography Xu Xiaoting and the free man Wang Weiyi.
Tianjin, who took the lead in the first game 5-0, was frustrated in Ouyang Sissi and Brishio, and Shanghai chased it to 9-10.After changing to Yang Yi, Tianjin created a counterattack opportunity. Li Yingying and Walgas had repeatedly burst into the building. They pulled the scores to 15-9 in one fell swoop.Walgas' buckle was out of bounds and stopped, and Shanghai was approaching 15-18.Valgas first hit the round, and then seized the opportunity to counterattack, helping Tianjin to lead 20-15.Li Yingying's strong attack and blocked nets successively won the game and the winning points, and Tianjin won a game 25-18.
In the second game, Shanghai was joined forces by Zhang Yuqian in the second game.After 1 draw, Shanghai's hair wheel card wheel was lost 6 points, 1-7.After Shanghai chased 4-8, Zhang Shiqi stopped Ouyang Sissi's right breakthrough, and Tianjin led 9-4.After the Shanghai War to 8-11, he was unable to restrict Li Yingying and Valgas's sharp attack. Tianjin's hair wheel in Yao Di opened the score to 16-8.In the second half of the game, Tianjin led the lead, and Chen Boya hit the game 24-12.After Zhong Hui did not hit, Li Yingying countered the ball, and Tianjin won another game 25-12.
In the third inning, Tianjin, who was 0-2 behind, chased 2 draws through Li Yingying's serve. After 5 draws, he took advantage of Zhang Shiqi's block 7-5.Valgas's strong attack has been out of bounds and was stopped, and the 6-9 lags lagging in Shanghai to 10 square meters.Valgas and Chen Boya counterattacked their strengths, Wang Yuanyuan attacked and stressed, and Tianjin scored 5 points, 15-10.Zhonghui blocked the net merit and Bridio's counterattack, and Shanghai, who was 6 points behind, chased 15-18.Zhang Shiqi took the ball to pass the round, and the high-speed fast attack was out of bounds. Tianjin led 20-15.Brido's strong attack and Xu Xiaoting took the goal straight. Shanghai was approaching 19-21.With Valgas's dwelling, Tianjin won 25-20 and successfully sealed Shanghai.(Caucasus)