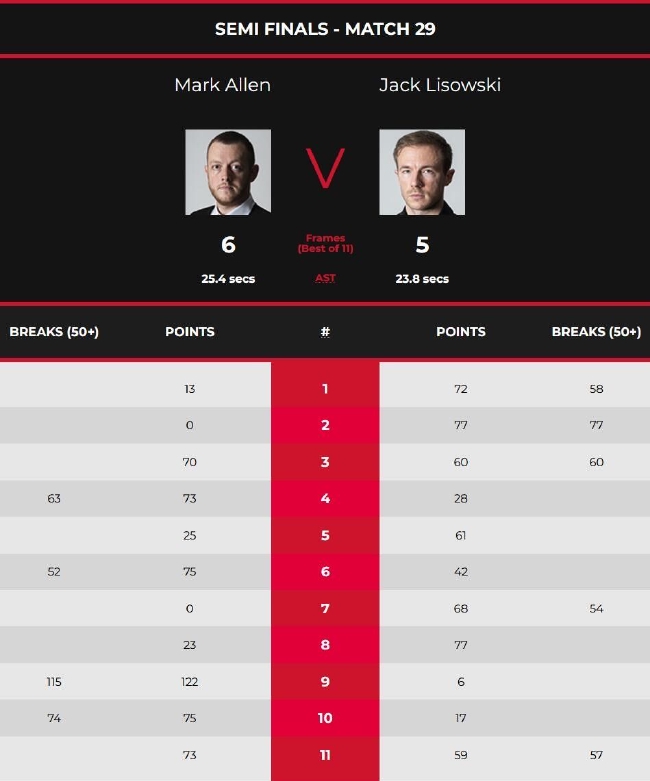 Mark Allen 6-5 Jack Lesovsky
In the early morning of November 20th, Beijing time, the 822 Snooker British Championships was the 8th game day. In the second semi-finals, although the No. 12 seed and England player Jack Lisovsky played 5 and 50+, after a large score of 5-3, he missed 2 match points and lost 3 games in a row. In the end, the No. 9 seed of the competition was lost to 5-6, and the northern Irish player Mark Allen, missed the final. "Little Steel Cannon" will compete with Ding Junhui to compete for the championship of this competition.
The 2022 Snooker British Championships was held at the Barbikan Center, Yorkshire, England on November 12-20, local time. In terms of the schedule, the first 7 games are played 4 games a day, divided into 2 periods, 2 games per game period, 2 semi -finals in the 8th, 1 semifinal In terms of the competition system, from the first round to the semi -finals, all adopted the 11th game and 6 wins, and the finals were 10 winning systems, divided into 2 stages.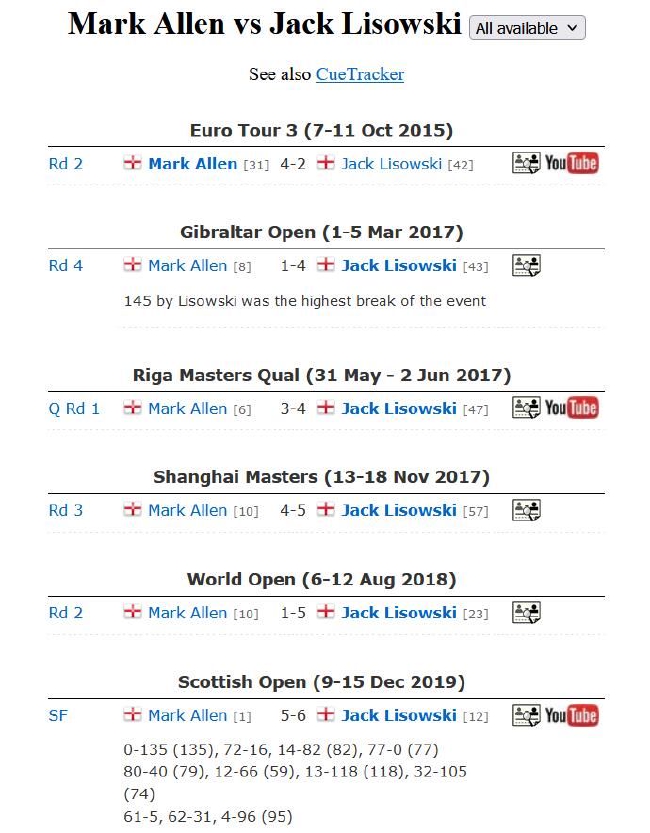 Mark-Allen vs Jack Lesovsky's counterpart
In the second semi-finals of the 8th match day, Mark Allen, No. 9, Northern Ireland, and the No. 12 seed and England player Jack Lisovsky. Earlier, the two sides played 6 times, and the "little driver" 5 wins and 1 loss occupied the upper hand, and the last five wins were won.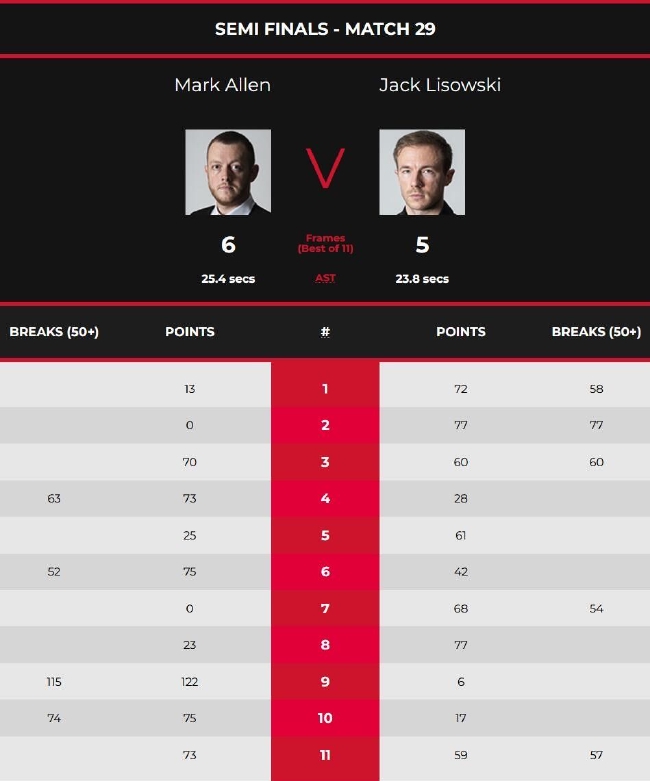 Mark Allen 6-5 Jack Lesovsky
In this game, Lisovsky came up to play a single shot of 50+ in 3 consecutive games, but he just won the first two innings with 72 (58) -13 and 77 (77) -0. Essence In the third game, although he scored 60 points in a single shot, Allen finally reversed a game with 70-60 (60). In the fourth inning, the "small steel cannon" also made a single shot 60+, and pulled another game with 73 (63) -28, and entered the midfield to rest with a large score of 2-2.
Return to the rest, in the fifth game, Lisovsky won a game with 61-25, and the score was 3-2 again. In the sixth inning, Allen scored 52 points for a single shot, with 75 (52) -42 again pull the score to 3-3. Next, Lisovsky won the match point with 1 shot 50+, with 68 (54) -0 and 77-23, and scored 5-3 to get the match point.
However, after that, Allen made 1 shot of 70+ in a row, and rescued 2 match points with 122 (115) -6 and 75 (74) -17, and pulled the score to 5-5 square meters. In the final game, although Lisovsky scored a single shot of 57 points, Allen took a number of times and eventually won with 73-59 (57), and scored 6-5 to advance to the final.