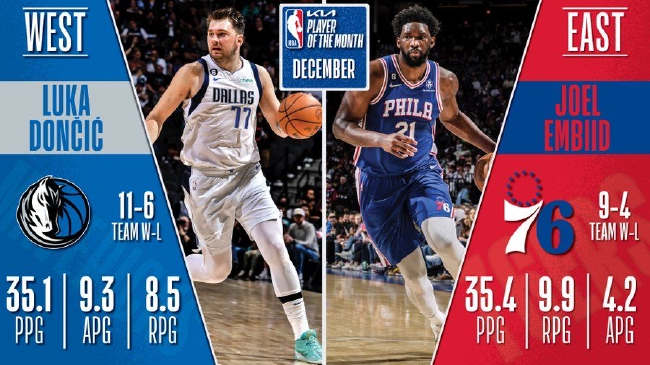 On January 4th, Beijing time, the NBA officially announced the best player in December 2022. Lone Ranger Luca-Dongcic was elected to the best player in the West.Best player.
Last month, Dongcic led Lone Ranger to achieve a record of 11 wins and 6 losses, averaging 35.1 points, 9.3 rebounds and 8.5 assists per game.
Embiid led 76 people to achieve 9 wins and 4 losses last month, and averaged 35.4 points, 9.9 rebounds and 4.2 assists.Embiid's 76 -person career has won the best month in his career, surpassing Iverson (4 times), ranking first in the history of the team!
Other players who have been nominated are:
West: James, Alexander, Jacques, Malcanin, Little Sabanis, Zion, and Mortt.
East: Durant, Owen, Tatum, Jay Jay Brown, Alphabet Brother, Bartler, Adaboy, Harry BroBon, Hilder, Michel, Siakam, Little VagnaEssence