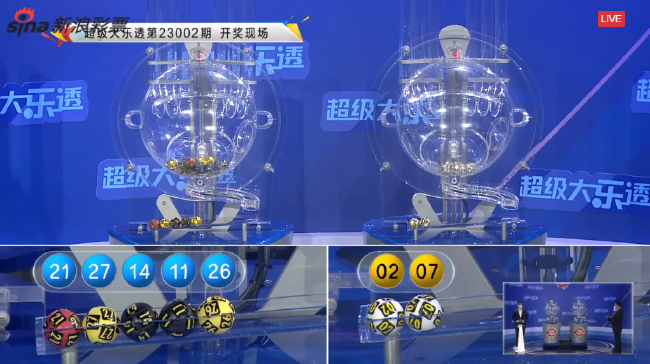 On the evening of January 4th, Beijing time, the 23002th issue of Sports Lotto.The current lottery number is the front area 11 14 21 26 27, the back zone 02 07; the national sales amount of 255 million yuan in this period.
In this issue, Da Lotto will start three prizes, and the single bet is 10 million yuan to be divided into 3 places. Jiangsu, Zhejiang, and Sichuan have 1 bet.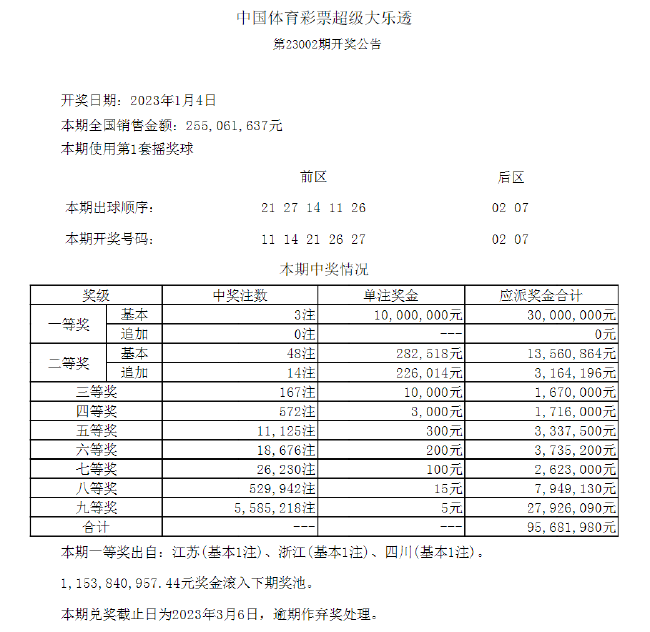 The first prize in Jiangsu Institute is from Suzhou 3205005197 Sports Lottery Sports Store. It is a 24 yuan betting bold and reciprocating ticket, with a single ticket award of 10.299 million yuan.
The first prize of Zhejiang Institute was from Wenzhou 3303034797 Sports Lottery Sports Store. It is a 11+2 combination duplex ticket and a single ticket award of 10.123 million yuan.
Sichuan Ziyang 5120053276 Sports Lottery physical store has 1 first prize in the physical store, with only 4 yuan betting and 10 million yuan award.
The second prize was issued 48 bets, and the single bonus was more than 282,000 yuan, of which 14 bets were selected, and the prize was more than 226,000 yuan.In terms of prize pools, after the end of the prize, 1.153 billion yuan was rolled into the next issue.
Other game lottery lottery numbers that night is:
Fucai 3D No. 23004 Latest lottery number: 3 9 8 8
Latest 33004 Issue 23004 Latest lottery number: 0 7 0
Latest 23004 Issue 23004 Latest lottery number: 0 7 0 7 7 7