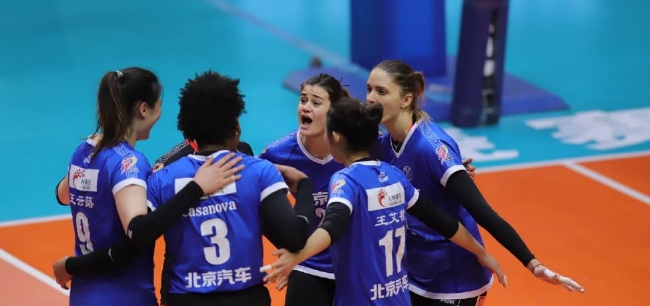 Beijing Women's Volleyball Team
On January 3, Beijing time, the second round of the Chinese Women's Volleyball Super League's 5 to 8 cross-semi-finals in the 2022-2023 season ended in Shangrao, Jiangxi.Jiangsu Zhongtian Iron and Steel 3-1 fell to Liaoning Donghua 3-1. In the three-game two-game contest, the total score was eliminated by 2-0 to get the qualification for 5th place. The defeated Liaoning Donghua will participate in 7 and 8Famous finals; Beijing Automobile 3-2 defeated Shandong Rizhao Iron and Steel, successfully pulled the total score to 1 draw, and the two teams will play a decisive venue tomorrow.
Beijing Automobile 3-2 Shengshan Rizhao Steel
Faced with the Shandong team who was absent from Yang Hanyu, the Beijing Women's Volleyball Team, which was defeated in the first round, showed a strong resistance. After the fifth game of the battle, 3-2 won the total score to 1 draw.The five games scores are 25-14, 22-25, 25-22, 19-25 and 15-11.
The two main attacks in Beijing (Serbia) and Wang Yunzheng scored 21 points and 20 points respectively, and responded to Casanova (Cuba) to score 18 points.Shandong's Claig (Cuba) scored the highest 17 points in this side. The deputy attack Guo Huizhen contributed 14 points, and Du Qingqing and Labard Geva (Bulgaria) scored 12 points and 11 points respectively.
Jiangsu Zhongtian Iron and Steel 3-1 wins Liaoning East Chemical
Although Jiangsu encountered the opponent's stubborn obstruction when he played with Liaoning again, he was better than grasping the key points. He 3-1 of the opponent of 3-1, won the total score of 2-0 in the competition of three games, won the fifth place in the competition, and won the fifth place.Opportunities, the four innings are 25-22, 25-22, 26-28 and 25-22.
Jiangsu's response Zhou Page took 17 points, and the two masters Wu Mengjie and Tang Xin scored 14 points.Liaoning's response Sun Xiaoxuan scored 23 points and was still difficult to save the Lord. He attacked Shi Bingtong with 12 points, and the deputy attack Sun Yuqing scored 10 points.(Caucasus)