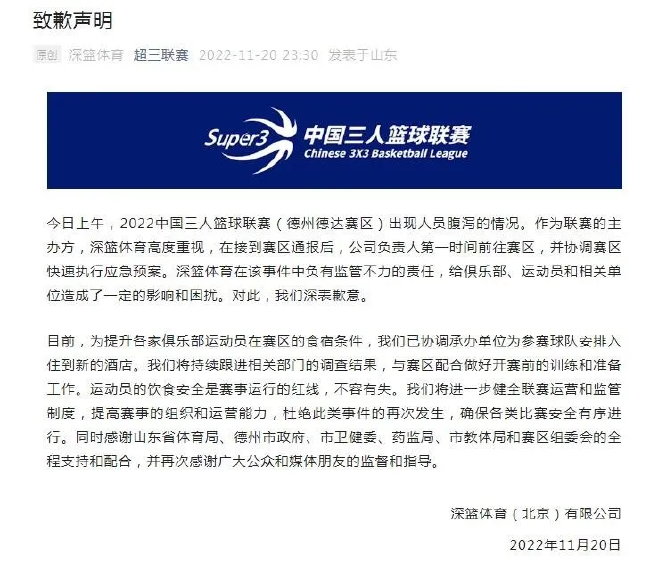 News on November 22, Beijing time, recently, the 2022 Chinese Basketball League (Super Three League) Texas Deda Destamental Diagnosis has issued an apology statement in the league organizer Deep Basketball Sports.
According to people familiar with the matter, a number of clubs who are participating in the competition report that it is suspected that the meals provided by the competition organizer have quality problems, which has led to many players and staff of many furniture music clubs that have diarrhea, which has seriously affected the participation of players. The food quality of the club in the league work group is very poor, and players are not allowed to order takeaway.
Deep basket sports apology statement:
This morning, the 2022 Chinese Basketball League (Texas Deda Division) had diarrhea. As the organizer of the league, Shenzhen Basketball Sports attaches great importance to it. After receiving the notification of the region, the company's head of the company went to the division as soon as possible and coordinated the rapid implementation of the emergency plan. Deep Basket Sports has a responsibility of poor supervision in the incident, which has caused a certain impact and trouble on the clubs, athletes and related units. We apologize for this.
At present, in order to enhance the accommodation conditions of the athletes of various furniture music regions in the area, we have coordinated the organizer to arrange for the participating team to stay in a new hotel. We will continue to follow up the results of the relevant departments and cooperate with the division to do a good job of training and preparation before the start of the game. Athlete's diet safety is the red line running in the event and cannot be lost. We will further improve the league operations and regulatory systems, improve the organization and operation capabilities of the event, eliminate the re -incidence of such incidents, and ensure that all kinds of competitions are safe and orderly. At the same time, I would like to thank the Shandong Provincial Sports Bureau, the Texas Municipal Government, the Municipal Health and Health Commission, the Drug Administration, the Municipal Education and Sports Bureau, and the organizing committee of the area, and once again thank the public and media friends for their supervision and guidance.