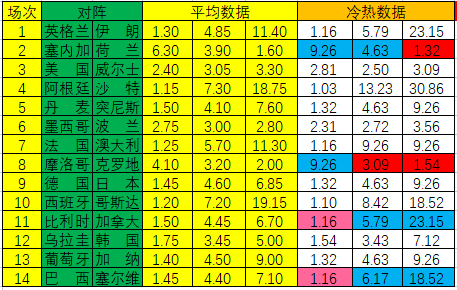 Hot and cold index
Based on the real support ratio, combined with instant data and expected values, the simulation calculation is an fitted virtual data that is fitted under all models, that is, the hot and cold index. Then compare the three -time index with the hot and cold index to obtain the degree of cold and heat from the specific corresponding options to avoid heat and cooling for the lottery, and provide a reference for scientific choices.
Instructions for the use of the hot and cold index, in the hot and cold list:
The red value represents the heat, the greater the deviation from the actual data, the higher the heat.
The blue value represents cold, the greater the actual data deviation, the lower the heat.
Options with high heat need to consider heat avoidance in combination with other factors.
Options with low popularity need to be appropriately selected in combination with other factors.
Hot Options: Brazil, Belgium
Brazil is the strongest attack in this period. The team's main team is complete and the competitive status is good. However, because Philmino is unable to be selected, the lack of pillar center has weakened the team's end power. Serbia is not a weak travel. The team has the ability to compete with first -class strong teams, and it is not generally optimistic. The team has higher potential. As a high -temperature popular team, Brazil wants to crush Serbia. At present, the data support is insufficient. It is expected that the offensive pattern is optimistic about the victory.
This World Cup should be a curtain performance of the golden generation of Belgium. Most of the team's main force is approaching the age of retirement, especially the aging situation of the backcourt. Therefore, the team should come up with strong toughness at different past competitions. Canada is more powerful. Most of the main players in the middle and back areas are US -professional players. The team's offensive threat is insufficient.
Heat options: Netherlands, Croatia
The Dutch has the strongest attack in this period. The team's 6 games won 5 wins, and the competitive status was good. Senegal's core striker is internal injuries. The team's skills and tactical level are disadvantages. More dependence on single fighting alone, the Netherlands should be able to take the initiative to take the initiative and look at the pattern of sitting and wins.
Croatia's play style is close to Morocco, which is mainly controlled by control, and Morocco's lineup strength is not inferior to Croatia, and the team is younger and impactful. As a high -temperature popular team, Croatia currently has insufficient winning intensity and the data continues to tilt to the opponent. This field has a certain coldness and it is recommended to set up defense.
(Sina lottery exclusive manuscripts are prohibited from reprinting, and illegal regulations will be investigated)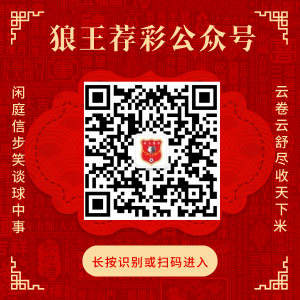 Follow the Wolf Wang recommendation lottery to collect the world's red orders