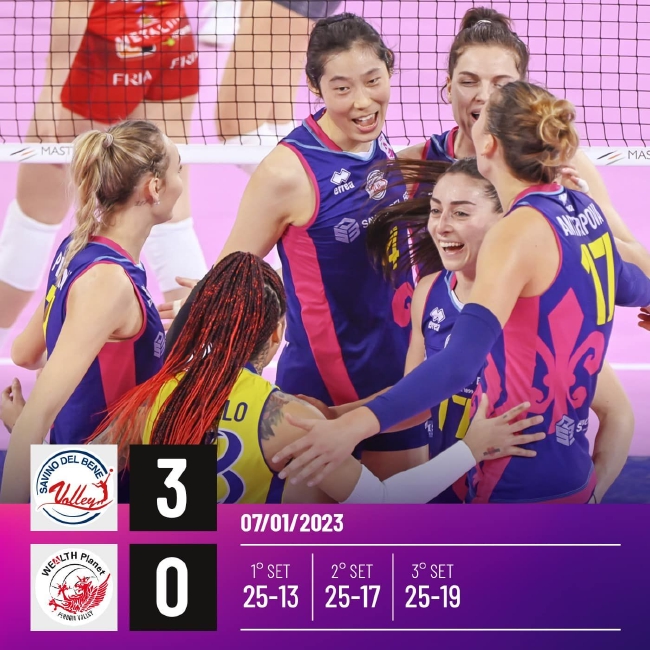 In the early morning of January 8th, Beijing time, the 14th round of the Serie A Women's Volleyball League regular season in the 2022-2023 season competed for a comprehensive development.Zhu Ting joined Sikadic's 3-0 sweeping Perja 3-0 at home, and won 35 points after the 11th victory of the season.19.Zhu Ting scored 13 points in the second score of the team. A single MVP was obtained by her teammates and the main captain of Marinov.
Zhu Ting still launched in this campaign. 11 points and 2 blocks contributed 13 points, of which 1 of the offensive 23 deduction 11 mistakes and a success rate of 48%.In addition, she also received 20 passes and 0 mistakes, and the perfection rate and perfection rate were 65%and 45%, respectively.
Play with the 12th Perugja, the Sandiqi Women's Volleyball Team sent the main attack Zhu Ting (China), Pieterini, a secondary attack Berne (Netherlands), and Alberti.Russia), Second Chuan I-Dijurio and Freeman Castili (Dominica).Skandic took the initiative to take the initiative to score in the hair buckle, and it was easy to break through the barrier.
Skandic's response Antroba scored 15 points to win the scoring king. The main attack Zhu Ting scored 13 points. The secondary attack Berian and the main attack Pieterini scored 10 points, and the secondary attacked Alberti scored 8 points.Peruja's main attack Galdini, the response/main attack Lattic (Sweden) all scored 10 points, and the main attack Guira scored 6 points in the two innings.
2022-2023 season Serie A Women's Volleyball League Regular Tournament The 14th round has ended another 4 games.
Casar Marcere 2-3 losses Gayei (25-19, 19-25, 17-25, 25-20, 12-15))
Best Acyzio 3-0 victory over Florence (25-20, 25-19, 25-20)
Belgamo 0-3 negative Kosyariano (21-25, 17-25, 26-28)
Macratta 1-3 negative Novara (21-25, 18-25, 26-24, 18-25)