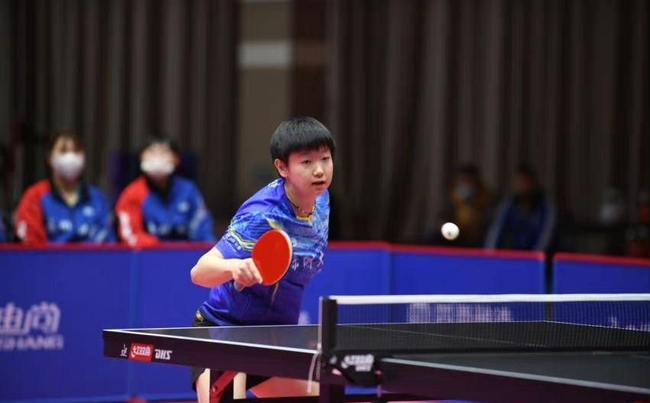 Sun Yingsha
News on December 8th, Beijing time, the first stage of competition for the women's group of the Ping Chao League in 2022, Chen Meng scored 2 points in a single doubles, Sun Yingsha 3 to 1 force Wang Manyu, Shenzhen University swept Shandong Luneng to get the first phase of the first phaseThe first name.
In the fifth round, the biggest focus was the competition between Shenzhen University and Shandong Luneng. Both teams remained unbeaten in the first 4 rounds.This game is also the first -stage dispute over the first stage.Shenzhen University sent a group of Chen Meng/Sun Yizhen in the double -end match. They played four games in the first game and Qian Tianyi/Chen Xingyong. In the end, 14 to 12) Winning, Shenzhen University led 1-0.
Next is the duel of the main force of the two teams, Sun Yingsha and Wang Manyu confront them.Sun Yingsha quickly launched after the start of the game, and she quickly kicked off the lead to win with 11 to 4.In the second game, Wang Manyu actively attacked, and she pulled back a game 11-6.After the game, Sun Yingsha gradually occupied the upper hand. She also maintained a lead in the score. 11-9, 11-13, and she defeated Wang Manyu 3-1.Shenzhen University expanded the total score to 2-0.
In the subsequent competition, Chen Meng pulled two games in a row 1 to 2, and she wins Shandong with 3 to 2 (6 to 11, 11 to 8, 8, 11, 11-8)Chen Xingtong of Luneng swept Shandong Luneng with 3-0. They won the first name in the first stage of the five wins. Shandong Luneng followed with 4 wins and 1 loss.
In other rounds of this round, Chengdu Gaoxin Ruo Shui swept Shanghai Longteng 3-0, and East China University of Technology defeated Longjiang Huizhong 3-1.In this way, Shenzhen University, Shandong Luneng, Chengdu Gaoxin Ruoshui and Shanghai Longteng are ranked among the top four.
In the semi -finals, Shenzhen University faced Chengdu Gaoxin Ruoshui, and Shandong Luneng will be confronted with Shanghai Longthe.The two semi -finals were arranged on the 9th and 10th.