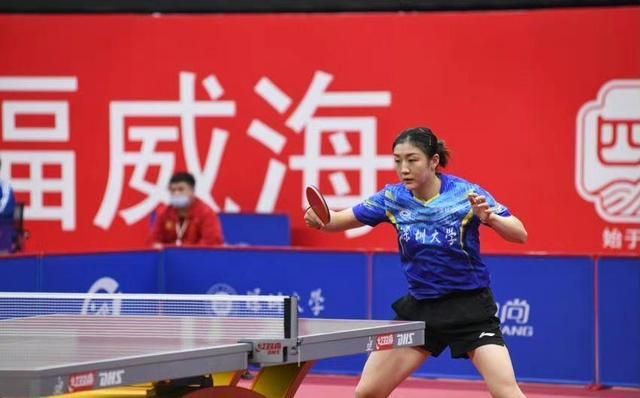 Chen Meng
On December 9th, Beijing time, the women's group of Pingxian Super League ended the first semi -finals in 2022, and Shenzhen University took the lead in locking in the final qualification.Faced with Chengdu Gaoxin Ruoshui, Chen Meng's single doubles contributed 2 points, and Sun Yingsha also won 3-0. Shenzhen University swept Chengdu Gaoxin Ruoshui 3-0 into the finals.
Shenzhen University is the biggest popularity of the women's team of this ping -pong league. They have the absolute main force of Chen Meng and Sun Yingsha.Faced with Chengdu Gaoxin Ruoshui, Shenzhen University used Chen Meng and Sun Yizhen to partner with doubles. Sun Yingsha played two singles, and the other two singles were Chen Meng and Sun Yizhen.
In the first game, Chen Meng/Sun Yizhen faced Yuan Yuan/Shi Yaoyao.After the opening, Chen Meng/Sun Yizhen took the initiative and maintained the lead in the score.Yuan Yuan/Shi Yaoyao played very tenacious and worked hard to bite the score, but Chen Meng's ability was stronger in the processing of key balls. The Shenzhen combination won two games with two 11-8 first.
In the third game, Chen Meng/Sun Yizhen led 3-1 quickly, and the Chengdu team requested a suspension.Back to the field, Chen Meng/Sun Yizhen continued to take the initiative. They continued to expand their advantages to win the third inning at 11-2 and win 3-0.Shenzhen University led 1-0.
Sun Yingsha's second set against Chengdu team Li Yuqi.In the first game, Li Yuqi fought actively, and she had been entangled with Sun Yingsha in terms of scores.After 10 draws, Sun Yingsha scored two points in a row, 12 to 10, she first set the city.In the second game, Sun Yingsha took the initiative and soon led 6-0.After Li Yuqi, Li Yuqi was unable to counterattack, and Sun Yingsha next to the city with 11 to 3.In the third game, Sun Yingsha still controlled the situation, with 11-8 and the next city. She won 3-0.Shenzhen University expanded the total score to 2-0.
The third set of Chen Meng occupied the upper hand. She defeated Shi Yanyao, who defeated Chengdu team 3-0 (11-7, 11-6, 11-9). Shenzhen University won the final with 3-0.