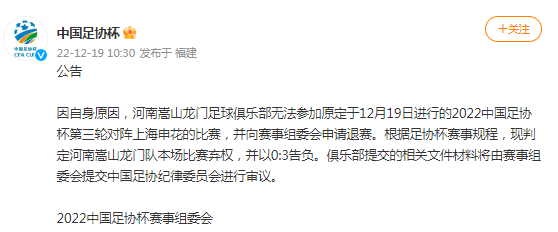 On December 19, the Chinese Football Association Cup officially issued an announcement on the retirement of Songshan Longmen, Henan.
According to the announcement, due to its own reasons, the Songshan Longmen Football Club of Henan was unable to participate in the third round of the 2022 China Football Association Cup that was scheduled to be on December 19, and applied for the competition organizing committee for retirement.According to the FA Cup Cup, it is now judged that the Songshan Longmen team in Henan is abstained from the game and negatives with 0: 3.The relevant documents submitted by the club will be submitted by the event organizing committee to submit it to the Disciplinary Committee of the China Football Association for consideration.
This is also the fourth team of the Football Association Cup to retire. Previously, Zibo Cuju, Suzhou Soochow, and Tianjin Jinmen Tiger chose to give up the Football Association Cup.