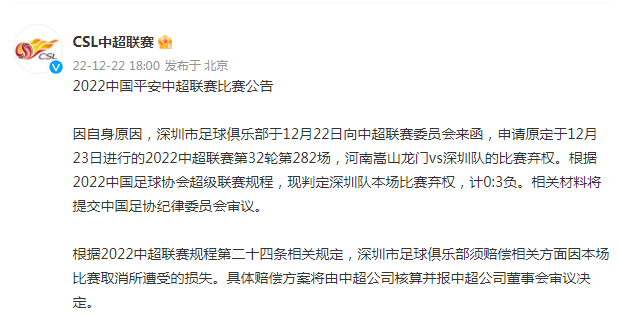 On December 22, the Super League issued an announcement that the Shenzhen team applied for abandoning the Super League.
Due to its own reasons, the Shenzhen Football Club wrote to the Super League Committee on December 22 to apply for the 32nd round of the 2022 Chinese Super League scheduled to be held on December 23, and the game abandonment of the Shenzhen team of Songshan Dragon Gate in Henan.According to the 2022 China Football Association Super League rules, the Shenzhen team is now determined that the game is abstained from the game, and the count is 0: 3 losses.Related materials will be submitted to the Disciplinary Committee of the Chinese Football Association for review.
According to the relevant provisions of Article 24 of the 2022 Super League Regulations, Shenzhen Football Club must compensate the relevant parties to the cancellation of the losses due to the cancellation of this game.The specific compensation plan will be calculated and reported to the board of directors of the Super League to review and decided.