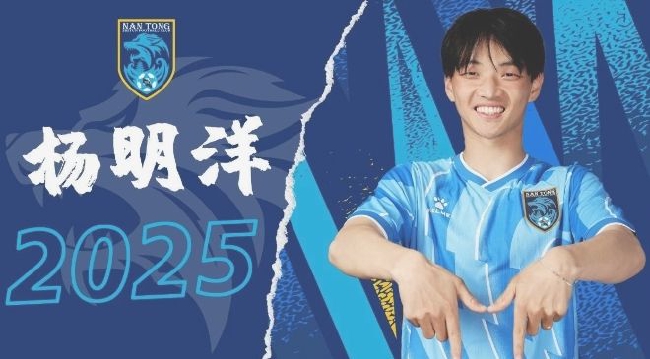 On January 1, the official news of Zhongjia Nantong Zhiyun, the club and Yang Mingyang renewed to 2025.
Nantong Zhiyun officially wrote: "Recently, Nantong Zhiyun and player Yang Mingyang completed renewal, and the contract between the two parties signed to 2025! Yang Mingyang will continue to wear a blue jersey to fight for Nantong!
In March 2021, with the joint efforts of many parties, Yang Mingyang finally resumed success and officially opened his career.As the first naturalized player in the history of the club, the low -key and diligent guy also lived up to the expiration. With the colorful performance of the colorful performance, the front and rear areas of Zhiyun were efficient,In the season, 7 goals and 3 aid transcripts were handed out.
In the 2022 season, Yang Mingyang's performance was still stable.Each goal must fight, good offense and defense, and repeatedly dedicated key assists and goals, becoming an indispensable solid force on the road of Nantong Zhiyun Chong!
After successfully renewing the contract with the club, Yang Mingyang said: I am very happy to have the opportunity to grow with Zhiyun.When I first arrived in Nantong two years ago, I did not expect that our process would be so good and completed the goal of overtaking.The two -year closed competition is of course very difficult for the clubs, players, and of course. I hope that there will be a main and away game next season, so that I can also feel the atmosphere of Nantong Zhiyun.I really look forward to the beginning of the league next year, and look forward to meeting you!
The 2023 season is the first year of the Chinese Super League of Nantong Zhiyun. I hope Yang Mingyang will continue to use his wonderful performance to build your team for the team, surprise fans, and win glory to the city!Go together with us, let us go to a brighter tomorrow!"
Yang Mingyang was born on July 11, 1995 in Basel, Switzerland. He was born in Wuhan, Hubei. He once played for the clubs such as Lausanne Sports, Caosan, Switzerland.China A, contributing 10 goals and 7 assists, will play in the team in the new season.