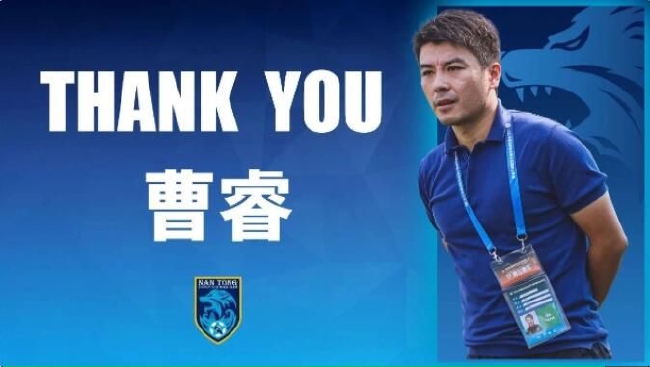 On January 4, according to the official news of the Nantong branch, Cao Rui, head coach of the team's first team, officially left office.This season, Cao Rui led the Nantong Branch Cloud Team to achieve 21 wins, 7 draws and 6 losses in the Chinese League, and successfully entered the Super League.Earlier this month, Cao Rui submitted an application to the club for family reasons. Today, the club officially announced that Cao Rui no longer served as the team coach.
The official announcement of the club is as follows–
On January 4, 2023, Beijing time, Cao Rui applied to the club to resign from the club's head coach of the Nantong Zhiyun.The club agreed to apply for Cao Rui to leave. From now on, Cao Rui will no longer hold the head coach of Nantong Zhiyun's front -line team.
In the summer of 2021, Cao Rui took the handsome whip of the head coach of the Nantong Zhiyun's front -line team, leading the wolves to fight the green.As a leader among the new generation of local coaches in Jiangsu, Cao Rui led Nantong Zhiyun to gain 11 wins, 1 draw and 4 losses in the second half of the league, with outstanding results.When the season, Nantong Zhiyun ended successfully with the best record of team history.
In the 2022 season, Nantong Zhiyun has a clear style under the guidance of Cao, and has become more and more dominant.In Nantong Zhiyun's rushing season, Cao Rui guided his outstanding work to complete his coach work, released all his energy and passion, led the team to promote the top professional league stage in China, and wrote a gorgeous chapter about Zhiyun!
As a team commander standing on the sidelines, Director Cao was stable, strong in collective concepts, and was very affinity under the field. He was the instructor of the team members and their close friends.Cao, who picked up the coach of the head coach for the first time to overcome the difficulties, works well, led the team to promote the style of wolf spirit in the field, and dedicated a wonderful green showdown to the majority of fans and friends, defending the glory of football belonging to Nantong.Essence
The club sincerely thanked Cao Rui for their hard work and selfless efforts during the work of the first -line team of Nantong Zhiyun!We will also always remember the unforgettable years and passion for you and Zhiyun!I wish Cao Rui all smooth and better in the future life and work, and wish Cao Rui's father's body soon recover.