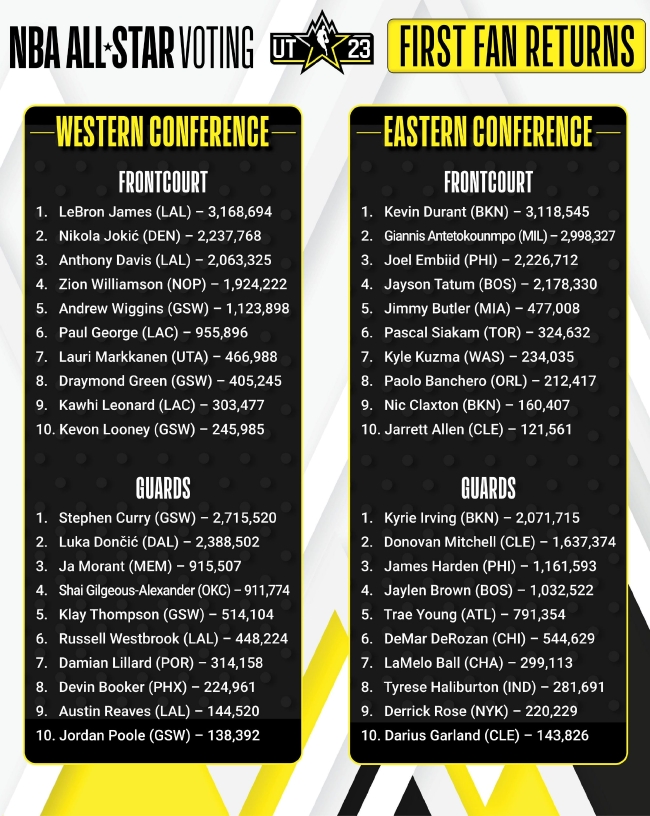 On January 6, Beijing time, the NBA officially announced the results of the first round of All-Star voting, LeBron James and Kevin Durant led.
In the first round of voting, James received 316,8694 votes, a voting king in the first round of voting.The Eastern led Durant, and his votes reached 3118545, which was not much different from James.
At present, the top three in the frontcourt in the West are: James (3168694), Jokic (2237768), Anthony Davis (2063325).The number of votes in Zion reached 1924222, a small gap with thick eyebrows, and the gap between many people since then is very large.
The top two in the backcourt in the west are: Curry (2715520) and Dongcic (2388502). The gap between the other western guards except the two is very, very large.
The top three in the Eastern frontcourt are: Durant (3118545), Alphabet Brother (2998327), Embiid (2226712).At the same time, Tatum's votes reached 2178330, which was not large from Embiid. Others other than four people had been pulled away.
The top two in the east backcourt are: Owen (2071715), Mitchell (1637374).Harden ranked third with 1161593 votes, and Brown ranked fourth with 1032522 votes. The two still had the hope of rushing into the top two.