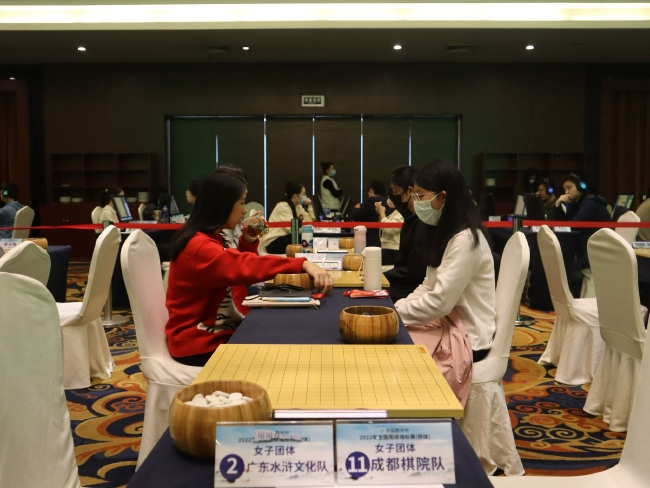 On November 18th, the fourth round of the 2022 National Go Championship (group) was in Wuxi, Jiangsu; the following is the round of the group in each group:
In the men's group B, the Chinese Pingmo Shenma Group won all 2 points from the Hangzhou Intellectual Sports School team with the victory of Park Changzhen, Shu Yixiao, and Zhao Zhongxuan, and also led this group with 7 points. Li Changxi, Cai Jing, etc., where the Shanxi Yuangong Hongyi team, tied the Zhejiang Yunlin Chess Zen team in this round. 6 teams including Hebei team and China Mobile Shanghai team have 5 points. In addition, Huang Xin, Chen Yusen, Chen Hanqi, Park Changzhen, and Chen Yichun in this group achieved four consecutive victories.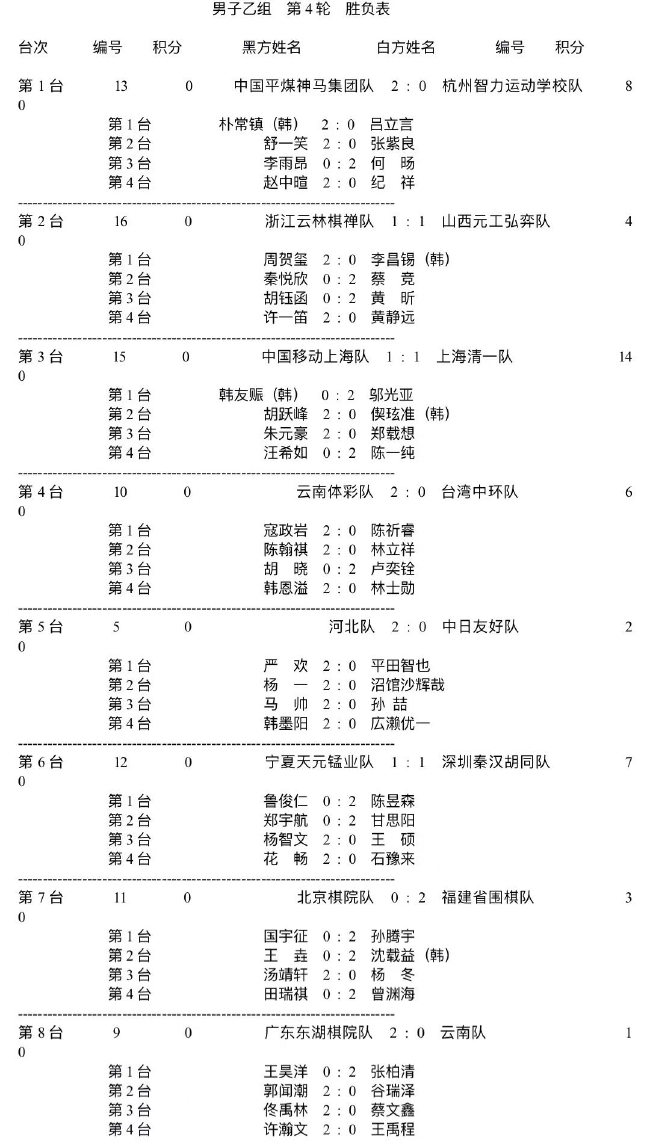 In the women's group B, the Guangdong Water Margin Cultural Team continued its good state, and the Chengdu Chess Academy team was seized. The two "Quanhua Class" of the Beijing Chess Academy and Chongqing team also held 6 points. The Hangzhou International Exchange Center defeated the women's team of Haifeng Chess Academy in this round, and finally welcomed the first victory. Huang Ziping, Gu Wanshan, Yin Jiayue, Zhang Xinyue, Quan Xiaozhen, and Liu Yechang won four consecutive victories.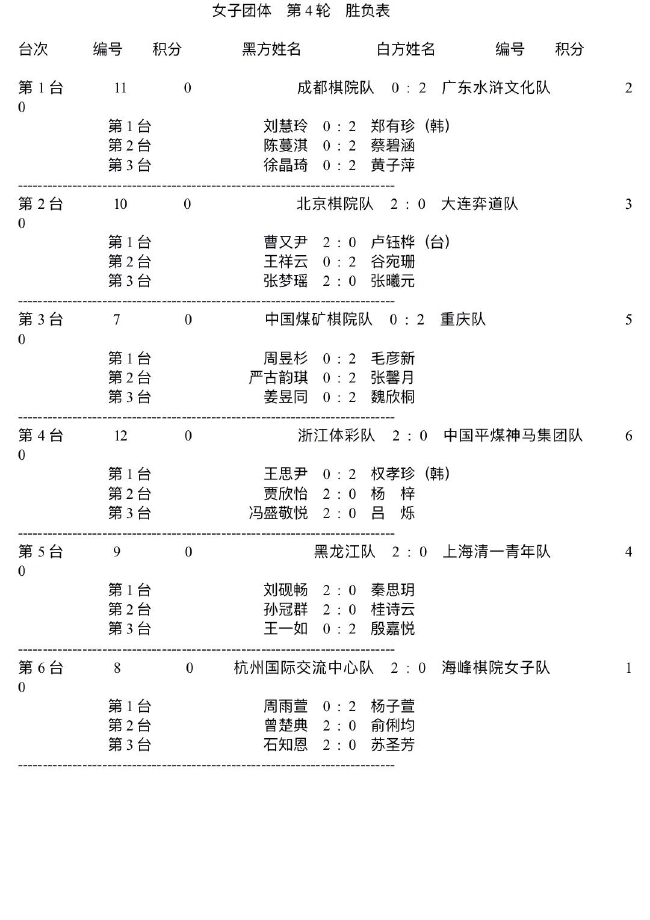 In the men's group C, the Hangzhou Chess Association team defeated the previous three -game winning streak Huanxu Electronic Treasure Island team, and also squeezed the latter. The Beijing Yiben Qingyuan team and the Hangzhou International Exchange Center also became more and more brave. After four rounds, they scored 6 points. The group Lai Junfu, Ying Yitao, Yin Songtao, Zhang Yeyu, Zhao Fei, and Ma Jingyuan won the four wins.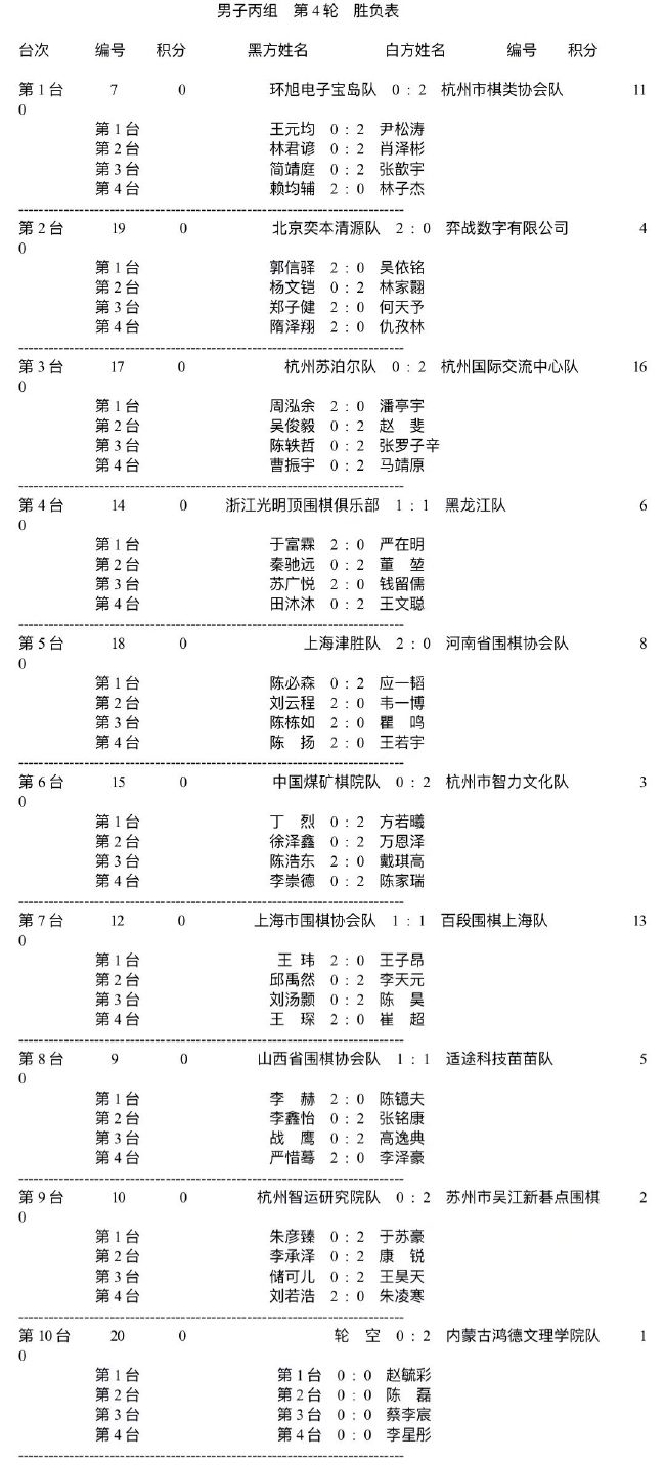 At this point, the national Go team race has exceeded half, and the competition in each group has also entered the fierceness. Tomorrow will continue the fifth round of competition, so stay tuned for live reports and chess records that Sina chess cards bring.