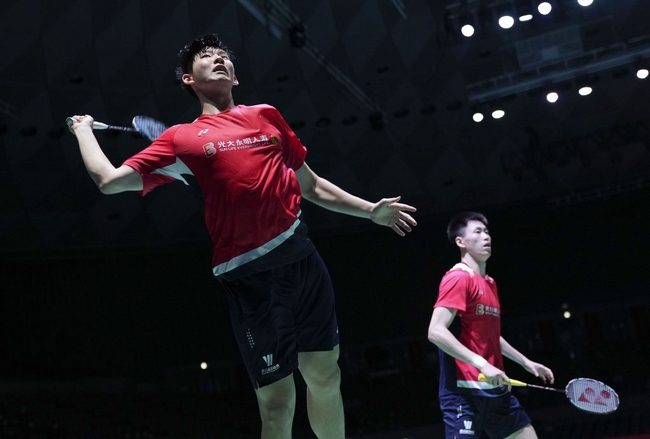 Liu Yuchen/Ou Yiyi
On November 19th, Beijing time, the first men's doubles semi -finals ended in the Australian Open in the 2022 World Badminton World Tour. Liu Yuchen/Ou Yiyi won the finals with a 3-1 victory in the third game.
Guo Yu sent four pairs of men's doubles to participate this time. Their main goal is to get more points to improve the world ranking of men's doubles. Liu Yuchen/Ou Yiyi performed well in the quarter -finals. They eliminated the Olympic champion Li Yang/Wang Qilin. In the semi -final, Liu Yuchen/Ou Yiyi encountered another pair of Chinese Taipei group Yang Boxuan/Li Zhehui. This was the first time that the two pairs were confronted.
After the start of the first game, the two pairs were very fierce, and there were continuous divisions on the field. After 11 draws, Liu Yuchen/Ou Yiyi suddenly powered off. The Taipei combination in China opened the leading team with 7 points in a row. They won the game 21 to 12. In the second game, Liu Yuchen/Ou Yiyi paid more attention to the hair connection and coherence. After 5 draws, they played two waves of orgasm. China's Taipei combined score, once overtaken 16-15. Liu Yuchen/Ou Yiyi quickly returned to the lead. After wasting two games, they finally seized the opportunity and recovered a game with 23-12.
Liu Yuchen/Ou Yiyi chased after the victory, and after 5 draws, he continued to score. However, after the 12-9th lead, they had increased their mistakes. Li Zhehui/Yang Boxuan took the opportunity to chase 3 points to equalize. Liu Yuchen/Ou Yiyi quickly hit the lead, but the Chinese Taipei group was pursued closely. They seized the opportunity to get the match point with 20-19 overtake. Liu Yuchen/Ou Yiyi was in danger and rescued 2 match points. After a waste of a game point, they won 2 points in a row and scored a final game at 24-22, and reversed the opponent to enter the final with 2 to 1.