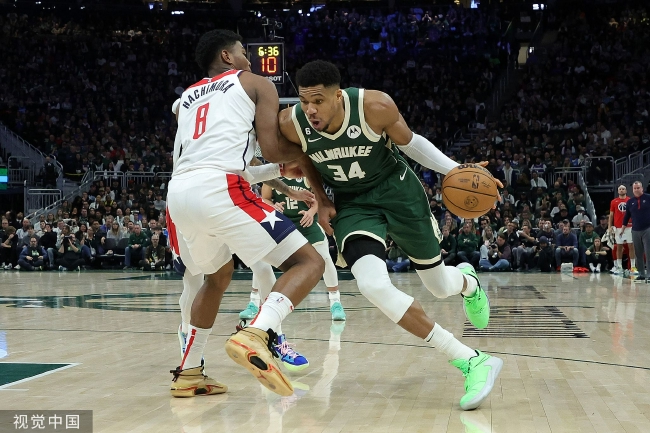 On January 4th, Beijing time, the NBA regular season, the Buck 123-113 Like Wizards, and the Wizards 5 consecutive victories were ended.
Data: Bucks (24-13): Letter Brother 55 points, 10 rebounds, 7 assists, Lopez 21 points, 12 rebounds and 6 blocks, Portis 17 points, 13 rebounds and 4 assists, Connoteton 11 points.
Wizards (17-22): Polzed Geis 22 points, 9 rebounds, 4 assists, Kuzma 20 points and 4 rebounds, Garford 11 points and 12 rebounds, Afdia 12 points, 4 rebounds, 3 assists, Kisper 12Divided, Eight Village 、 12 points, Bill 8 points and 4 assists.
In this game, Bill, the star of the Wizards, returned, and the male deer star Holes also returned to the bench.In the first quarter, Holes scored a continuous scoring team in the bench to lead the team with a 4 -point lead.In the second quarter, the letter brother led the team to achieve a 10-point lead, but the Wizards scored a climax to catch up with the score. After that, the letters brother led the team to a 15-0 climax. At the end of the Bucks halftime, 12 points were led at the end.In the third quarter, Bill, who had just returned, retired due to injuries, but the Wizards have narrowed the difference to 5 points.In the last quarter, the letter brother scored a continuous score and led the team to the difference again. In the end, 123-113 Licke Wizards, the 5-game winning streak of the Wizards was ended.