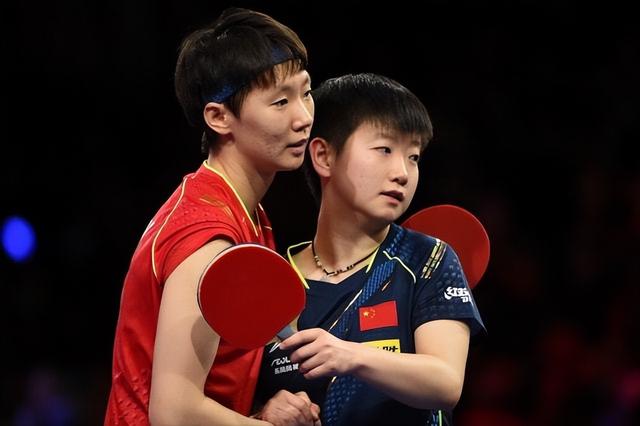 Sun Yingsha/Wang Manyu
On January 9, Beijing time, the preliminaries of the Asian Table Tennis Championships in the 2023 Deban World Table Tennis Championships continued. The two women's doubles winning games were locked in the National Table Tennis Championship.Sun Yingsha/Wang Manyu won 4-0, and Chen Meng/Wang Yidi reversed the winning three games when she lags behind.
Guoping attaches great importance to this Asian preliminaries. Masone, Fan Zhendong, Sun Yingsha, Chen Meng and other main forces all attended the competition. The goal can be imagined that it is to strive to start in 2023.In the women's doubles game, Sun Yingsha/Wang Manyu faced Akasher/Mikadlova in Kazakhstan.After the start of the game, Sun Yingsha/Wang Manyu quickly occupied the upper hand. They suppressed the opponent to lead the rampant quickly. 11 to 3, they first won.
After the game, Sun Yingsha/Wang Manyu fully controlled the situation and did not give the opponent any chance to counterattack. 11-6, 11-4, 11-7, and they won 3-0.
Chen Meng/Wang Yidi against Li Kaimin/Wu Yonglin in Hong Kong, China.After the start of the game, Li Kaimin/Wu Yonglin quickly entered the state. Their attack was very positive. After gaining a lead, they always maintained an advantage and took the city at 11-7.In the second game, Chen Meng/Wang Yidi's offense was more powerful, and they pulled back a game 11-7.Chen Meng/Wang Yidi in the third game was generally handled in detail, and had a bit more initiative. The Hong Kong group won 11-1 and the total score was 2-1.
In the fourth game, Chen Meng/Wang Yidi quickly led the lead to win at 11-4.They pursued the victory in the fifth game and quickly led 7-1.The Hong Kong group recovered a bit, Chen Meng/Wang Yidi immediately responded to a game with 11-4.In the sixth game, Chen Meng/Wang Yidi led 3-0 and 7 to 2. After the Hong Kong group was suspended, he could not counterattack. At 11 to 2, Chen Meng/Wang Yidi won this game with 4-2.