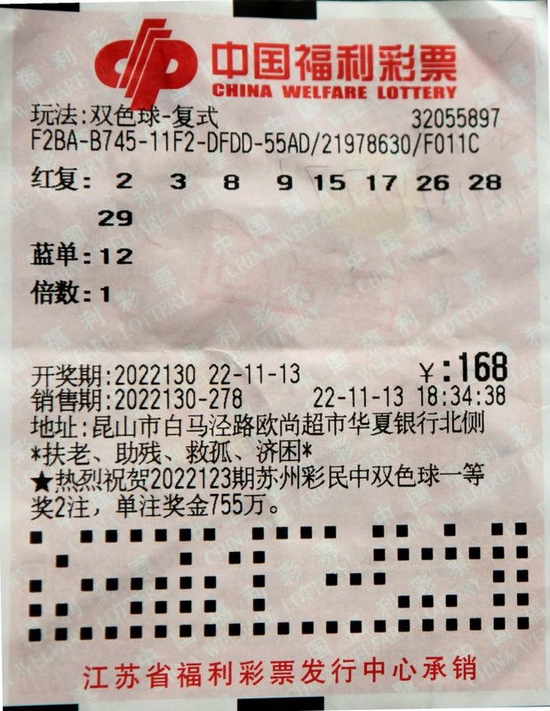 On the evening of November 13, the two -color ball game was awarded the 2022130. In the current period, the two bets of the two -color ball shaft have been sprayed with 50 bets, and the single bet bonus is more than 5.22 million yuan. These 50 first prizes are placed in Jiangsu (5 bets), Shandong, Guangdong and other places. Among them, 35 bets and first prizes are special prizes, and the single bet bonus is more than 5.79 million yuan (including more than 570,000 yuan). These five prizes come from the four cities in Jiangsu: Wuxi 2 bets, Suzhou 1 bet, Taizhou 1 bet, Suqian 1 note. The prize of Suzhou 1 bet comes from the 32055897 stations on the north side of Huaxia Bank, Baima -Road, Kunshan City. The lottery sales date is 18:34:38 ​​on November 13. The winning lottery is a 9+1 duplex lottery with 168 yuan. The bonus is more than 5.86 million yuan.
Welfare Lottery Old Lottery
Open the betting journey on the birthday
"I have been buying lottery tickets for 15 years and 8 months. Can I be regarded as old lottery?" Lucky Lao Li was very happy to sit on the sofa of the Provincial Fucai Center. Talking about the sky.
Why do you remember so clearly about the time to buy lottery? Because the first purchase of the Fucai dual color ball game was Lao Li's lunar birthday. On that day, Mr. Li's family ate for dinner at the hotel. After dinner, he and his sister -in -law walked on the road. Just when I saw a welfare lottery betting station, they both wanted to touch their luck, so they randomly bought a two -color ball. Lao Li's luck was pretty good. He won 4 red ball numbers and harvested 10 yuan. Although the money is not much, this good color head makes Mr. Li very happy for a while.
Unexpected encounters of the two -color ball
In the following days, Lao Li gradually became a loyal fan of the two -color ball game and even the welfare lottery. Almost all the color species involved: "'3D', Qile Cai, and the 'Happy 8' from the previous two years, I I have bought a lot! "Other colored species such as 15 and 5 and Oriental 6+1, Mr. Li also involved, but the frequency is relatively small.
Talking about the way of buying lottery, Mr. Li admitted that he did not buy much more than 100 yuan. Usually he usually chooses a 15 -bet single ticket betting method, which costs 30 yuan. "I choose my own number, choose according to my own mood, but in general, my luck is still okay." At this time, Mr. Li showed a little proud of his face. It turned out that he won the second prize once more than 6 years ago and received more than 200,000 yuan in prizes.
This time, Mr. Li first thought that in the case of preventing and control policy permission, he had to give his wife to "talk and walk". Over the years, he has been busy with his family, and has only been idle recently. Almost all the children's life at home was opened by his wife, and he felt very unhappy. "This time, the place time is set by her, as long as she is happy!" Mr. Li said affectionately.