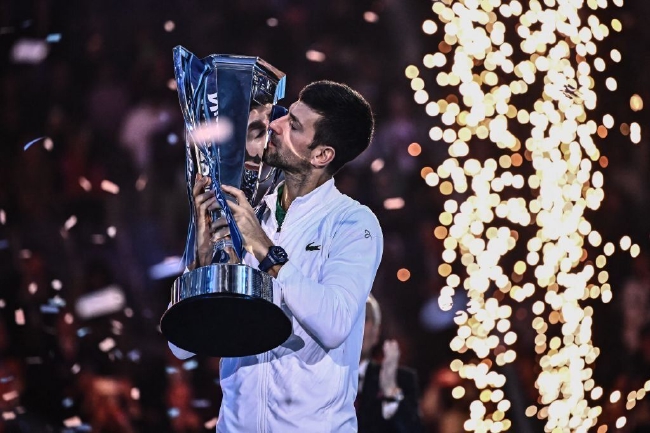 Djokovic won the year -end finals championship for the sixth time, and won $ 4.7403 million
In the early morning of November 21, Beijing time, the 2022 ATP year -end finals ended the men's singles finals. Djokovic did not send a break point in the whole game. In the end, he won the two sets with 7-5/6-3. Single championship, tied Federer's record of winning the championship, and this week with a 5 -win record of 5.7403 million U.S. dollars in 5 wins and 5 wins. Intersection
△ Djokovic won the ATP year -end final men's singles championship after seven years
▲ Djo broke Federer's oldest championship record at the age of 35 and 182 days when Federer won the championship in 2011 (30 -year -old 104 days)
☆ Djo's five cups this season, winning the 91st championship of his personal career
★ Djo ended his 2022 season battle with a record of 42 wins and 7 losses
○ After Djo received 1500 points, the rank
● In addition to winning 9 championships (2 Asias) in the ATP250, Ruda is defeated in the finals of the finals in the final finals in higher levels.
◇ Rud, who won the runner -up, got 800 points, surpassed Sicipas ranking to the third, ranked after two Spanish players Alcalas and Nadal
◆ Ruder's 2022 season record is 51 wins and 22 losses. In the 7th finals, 3 championships and 4 runners -up
Although the first set of games, although Djokovic missed three break points, it completed a key break at the end of the plate, so as to win a plate with 7-5
约 In the second set, the fourth game of Djo successfully broke the Ruude's take-up game and finally controlled the initiative, and eventually the next set of 6-3, thereby defeating Ruude in two sets. After the sixth time in 2015, the men's singles championship won the ATP year -end finals, and the record holder Federer side by side!