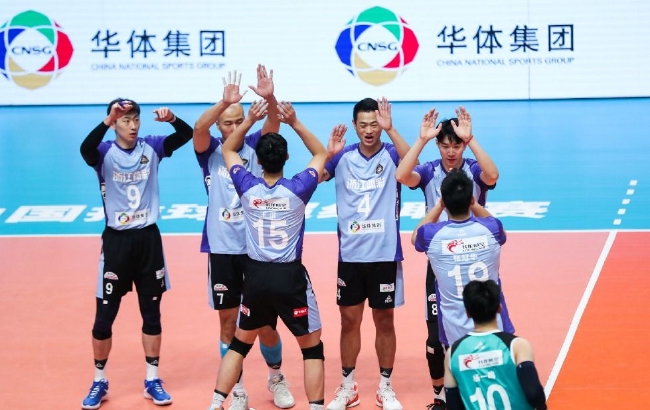 Zhejiang Men's Volleyball Team
On January 4, Beijing time, after two rounds, the Chinese men's volleyball super league season in the 2022-2023 season ended in Baoding, Hebei.The Zhejiang Sports Men's Volleyball Team with a number of national players 3-1 in the second round and then frustrated Shandong Ruchen. In the three-game two-game competition, the total score of 2-0 won the bronze medal, and the score of the four innings was 25-13, 15-25, 29-27 and 25-14.This is after the Zhejiang team won the runner-up after the 2003-2004 season, and returned to the League Trinana after 19 years (Note: 2021-2022 The Super Men's Volleyball League was canceled due to the new crown epidemic).The defeated Shandong men's volleyball team won the fourth place in the current Super League.
In the second round of the 5th and 6th finals, the Tianjin Food Group 3-0 revenge in Baoding Woli, Hebei, and pulled the total score to 1 draw, and the three inning scores were 25-17, 25-23 and 26-24.Tianjin's main attack Pavlovic (Serbia) won 15 points, and Zhang Xinyu scored 10 points in the secondary attack, and responded to Nikonov (Russia) 9 points; Hebei's main attack Bo Luyang (Ukraine) scored the highest in this side.10 points.
In the second round of the seventh and eight finals, Nanjing Radio and Television Cats in Jiangsu 3-1 fell Sichuan 3-1.17.Jiangsu's response Gu Qinfan scored 28 points, and doubled that Hongxin and Wang Wenjun scored 18 points and 12 points; Sichuan's response Guo Shunxiang scored the highest 18 points in the team.
The 2022-2023 season Chinese men's volleyball Super League 8th game 12th match day schedule is as follows:
13:00 7 and 8 finals finals Jiangsu Nanjing Radio and Television Cat vs Sichuan
15:00 5 and 6 finals decisive venues in Hebei Baoding Woli VS Tianjin Food Group
19:30 Championship runner -up final second round Beijing Automobile vs Shanghai Guangming