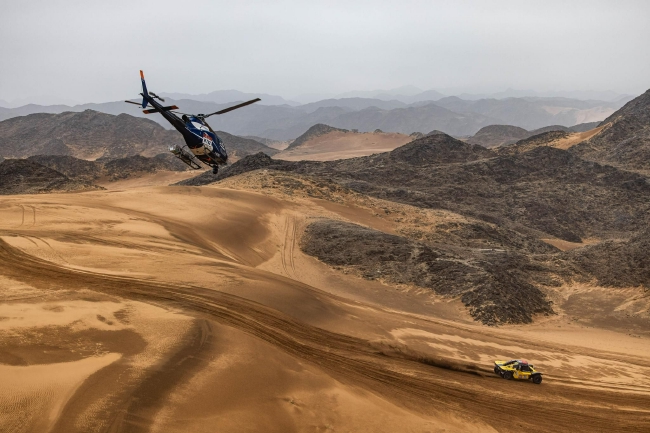 The total score of Chinese driver Han Wei/Mali has risen to 9th place
2023 The Dakar Rally ended the competition of the 7th stage on January 7.Saudi-local driver Allagi won the championship with a score of 3 hours 06 minutes and 23 seconds. This is his first stage champion in this competition.third.In the 14th Altia stage, he still led in one hour on the total score list.
Starting from Liade in the SS7 stage, the end point is located at Davidi, with a total length of 861 kilometers and a special stage of 333 kilometers.
The Audi team Peter Hussels failed to depart today because of the injury of the pilot. The Spanish veteran Seynes continued the game today after repairing the car, but he encountered a teammate Exter who hit the stone at 196 kilometers.Roms, Senns immediately stopped the car to help teammates repair the car. The two car groups lost a lot of time for this, but fortunately, the two cars were finally repaired and completed this stage.On the total score list, Exterrum has reached 21.
In terms of Chinese drivers, Zhang Guoyu/Jean-Pierre ran out of the 10th stage of the stage today, and his total score also rose to 30th.By the 9th place, the top ten were successfully promoted; the 70th of the Yunliang/Shahe Said, the total score was 61st; the Tianpo/Du Xuan righteous period was 126th, and the total score was 62nd.
The special stage of the motorcycle group was canceled, and the motorcycle group walked nearly 476 kilometers to contact sections.Get Duvadimi from Riya to the marathon camp after the original stage.
On January 8th, the Dakar Rally will usher in the competition of the 8th stage, which is also the last stage before the rest day.Starting from Dawadimi, the end point is located at Lyah, with a total length of 823 kilometers, of which 346 kilometers are 346 kilometers.