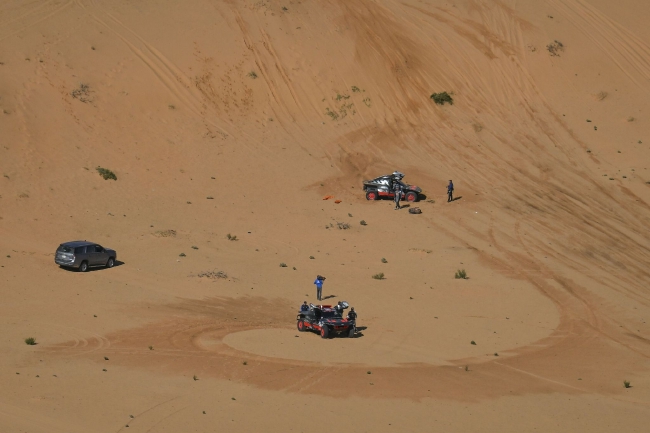 Dakar Lali Relie's 6th stage Audi teams suffered heavy losses
In 2023, the Dakar Rally ended the competition of the 6th stage on January 6th.Latan third.On the overall performance list, Etia's leading advantage has reached more than an hour, Latan second, and Brazilian driver Ramos third.
The 6th stage departs from Hayler, and the end point is located at Duvadami, Riyadh, with a total length of 635 kilometers and a special stage of 421 kilometers.
The Audi team has suffered heavy losses in this stage. The two Audi RS Q E-TRON has a crash accident in the same place in the same place. Both Peter Hanssel and Seynes have a mechanical failure.The injury of the pilot was seriously sent to the hospital for treatment, and they were forced to withdraw from the game.The Cyanus's car is still waiting for the restoration to continue the game.
Swedish driver Exterrom got the sixth stage, and his total score also rose to fifth.
In terms of Chinese drivers, the 14th place in Hanwei/Malissey, the total score rose to 10th; Zhang Guoyu/Jean-Pierracer is 18th, the total score rose to 37th;Ascended to 56th; Yunyun Liang/Shahe 75, the total score rose to 65th.
The motorcycle group, Argentine driver Luciano Benovids won the championship, Hovez continued to lead the overall results list, and Priece continued to occupy the second place in total.Kevin Benovids score third.
Chinese motorcycle drivers have accelerated today, Zackel 41st, Zhang Min No. 49, Zhao Hongyi 53rd, Deng Liansong No. 59, Senier 61st, and Fang Ming's 69th place.Senier's total score is 53rd, and it is the highest ranking of Chinese drivers.
On January 7, the Dakar Rally will usher in the competition of the 7th stage.The starting points are all in Davidi, with a total length of 641 kilometers, of which 473 kilometers are 473 kilometers.