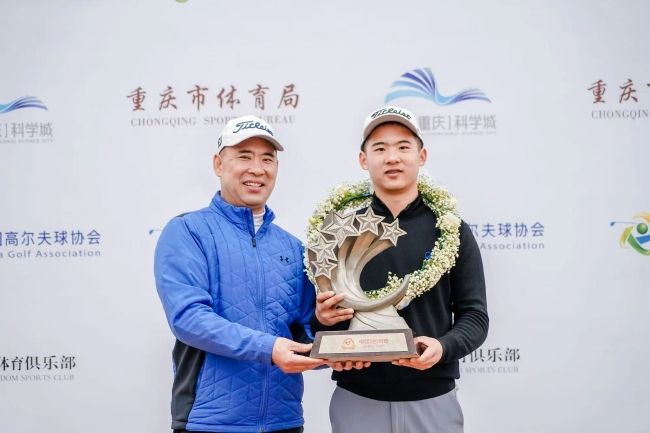 Zhou Yanhan (right))
On December 27th, Beijing time, 14 -year -old player Zhou Yan defeated Shen Nannan in the extension of Chongqing Shangbang, becoming the youngest championship, and the world ranking rose to 3037.
Zhou Yanhan was the 54 -hole leader of the Chongqing Open. However, Shen Nannan caught two birds in the last four holes, scored 71 shots, and tied him.The first plus cave two people to protect Paiping, the second plus hole, Zhou Yanhan pushed into a 12 -foot bird push and made a breakthrough in the Central Tour.Only 14 years old and 21 days old, Zhou Yanhan broke the minimum age champion recorded by Ding Wen's last year: 16 years old and 11 days.
This is also the second consecutive week, and youth players won the championship in the middle tour.Zhou Ziqin was 16 years old and 8 days when he won the China -High -sen Association Championship in Eastern Eastern.
Zhou Yanhan scored world points for the first time because of this victory: 0.10811 points, and the world ranking rose from 3037 to 2301.
Shen Nannan ranked second, scored 0.06487 points, and the world ranking rose from 1606 to 1584.
Ma Chengyao tied for third, accumulated to 279,808.33 yuan in 6 stops. Shantou guy, Shan Zihan, who has retired halfway, has 51,658.33 yuan, seized the prize king, and won the European Tour Card (Category 16).
Ma Chengyao scored 0.03387 because of this side by side, and the world ranking rose from 1977 to 1935.
Let's take a look at the world ranking of the top ten players in China:
1.Yuan Yechun, 117-bit (-1, ↓)
2.Li Haotong, 146 -bit (+1, ↑)
3.Dou Zecheng, 188 -bit (+1, ↑)
4.Wu Ashun, 221 -bit (+1, ↑)
5.Chen Guxin, 459 -bit
6.Chen Dinggen, 845 -bit (+4, ↑)
7.Ding Wenyi (amateur), 870-digit (-9, ↓)
8.Liu Yanwei, 884-bit (-2, ↓)
9.Ye Wocheng, 958-bit (-9, ↓)
10.Zhang Jin, 970 bits (-2, ↓)
The top ten in China did not enter and exit. Let's take a look at the situation of other players.
Zhang Xinjun, 1023 digits (+2, ↑)
Shi Zihan, 1058 -bit (+2, ↑)
Wang Yan, 1157 -bit (+3, ↑)
Luo Xuewen, 1165-bit (-7, ↓)
Bai Zhengkai, 1222-bit (-13, ↓)
He Shaocai, 1312 bits (-2, ↓)
Xue Han, 1315-bit (-2, ↓)
Chen Zihao, 1338 -bit (+7, ↑)
Yuan Tian, 1408-bit (-1, ↓)
Liu Enzhen, 1432 -bit (+15, ↑)
Zhang Yanlin, 1440 -bit (+1, ↑)
Huang Wenyi, 1461 bit (-8, ↓)
Fan Shiyu, 1530 -bit (+1, ↑)
Shen Nannan, 1584 -bit (+22, ↑)
Cao Yi, 1632 -bit (+1, ↑)