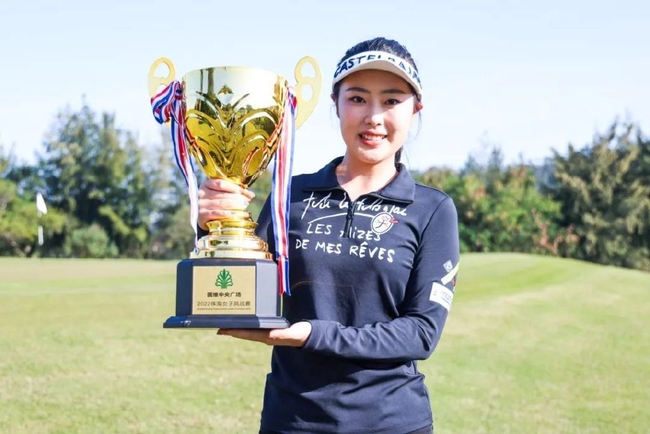 Dysentery
On December 27th, Beijing time, after the Guangzhou girl Sui Xiang rushed many times, she finally made a breakthrough in the Zhuhai Women's Challenge of the Guowei Central Plaza. Since the transfer of the first woman, the world ranking has jumped to 459.
Sui Xiang transferred his career in 2017. In the extension of the East of Zhuhai last Friday, he defeated Zhao Zhimeng to win the championship in the second plus cave Bao Pa. To this end, he won 75,000 yuan, climbing to the third place in the bonus list.At the same time, she received 3 world points, and the world ranking rose from 608 to 459.
Xi'an girl Zhao Zhimeng ranked runner -up for the second consecutive year and scored 1.8 points. The world ranking rose from 579 to 489.
Sun Jiaze slipped from the 36 hole to the third place, scored 1.2 points, and the world ranking rose from 424 to 393.
Black Horse Wan Yuanyuan ranked fourth, and for the first time, he scored 0.9 points, and the world ranking rose from none to 945.
A total of 20 players scored world points in Zhuhai Oriental, including Zeng Liqi (T17), and the world rankings have changed to varying degrees.
It is worth mentioning that the Women's Taiwan Tour-Taiwan Big Brother Opening Tournament, the 18-year-old well-being of the brigade, Wu Jiayan, came down to the Donghua Stadium, to break the career and the record of the conference, lead 5 shots to win the championship, win the championship bonus newNT $ 900,000 and 3 world points, the world ranking rose from 354 to 287.
Let's take a look at the world's top ten world ranking changes in Chinese women first:
1.Lin Xizheng, 15th
2.Lu Wanyao, 124 -bit
3.Shi Yuting, 150 bits (+3, ↑)
4.Yin Ruoning, 151st
5.Liu Yu, 162 -bit
6.He Mu Ni, 242-bit (-1, ↓)
7.Liu Ruixin, 243 digits (-3, ↓)
8.Yin Xiaowen, 260-bit (-3, ↓)
9.Zeng Liqi, 274 -bit (+2, ↑)
10.Liu Yan, 329-bit (-3, ↓)
Let's take a look at other players:
Sun Jiaze, 393 digits (+31, ↑)
Zhang Yahui (amateur), 427 -bit
Zhang Weifei, 434-bit (-2, ↓)
Sui Xiang, 459 -bit (+149, ↑)
Zhao Zhimeng, 489 -bit (+90, ↑)
Pan Yanhong, 510 bits (+16, ↑)
Antong, 532 -bit (+13, ↑)
Liu Wenbo, 548-bit (-7, ↓)
Ren Yan, 599-bit (-9, ↓)
Cai Danlin, 601 digits (+49, ↑)
Feng Simin, 638-bit (-5, ↓)
Li Dongmei, 667 -bit (+29, ↑)
Liu Yiyi, 669-bit (-1, ↓)
Zhang Yunjie, 684 -bit
Yan Panpan, 687th
Zhang Yan, 692-bit (-4, ↓)
Xue Zixuan, 722 -bit (+64, ↑)
Ni Zixin (amateur), 727-bit (-1, ↓)
Yan Jing, 748-bit (-7, ↓)
Fan Shuangshuang, 753 digits (+145, ↑)
Shi Yuli, 755-bit (-4, ↓)
Wang Xinying, 787-bit (-7, ↓)