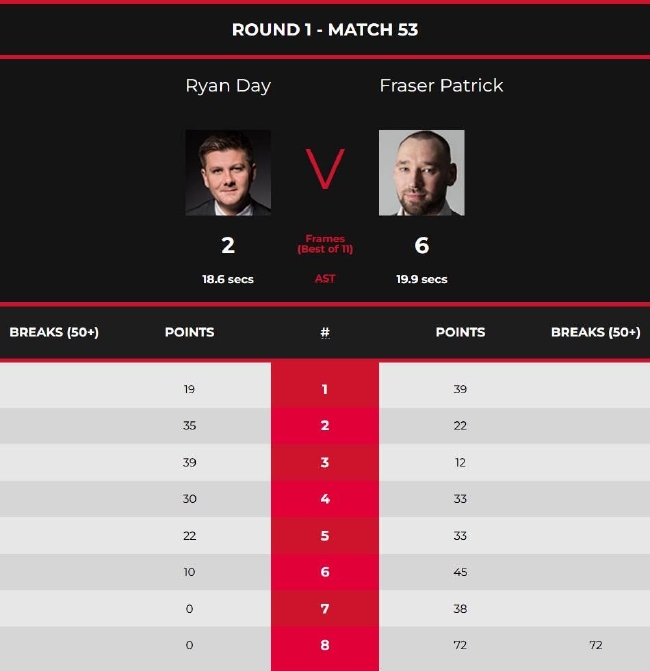 Ryan-Dai 2-6 Fraser Patrick
In the early morning of January 9, Beijing time, the next day of the Snooker 6 Red Ball World Championships.The two rounds were carried out on the same day.In the end, nine players in China ranked in the third round; in other players, Ryan-Dai Dai 2-6 burst into Patrick as a TOP16.
The 2023 Snooker 6 Red Ball World Championship Qualifications will be held on January 7-9 in Barnesley, UK. Four winners will enter the main match in Bangkok, Thailand on March 6-11.The qualification competition is divided into 5 rounds. All competitions adopt a 6 -win system of 11 games.
This competition was twists and turns, which was scheduled to be held in Thailand on September 5-10, 2022. The week before the war, it suddenly announced the postponement.It was not until December 9 that WST officially announced that the event was reorganized in Bangkok, Thailand on March 6-11, 2023, and its qualification competition will be in Barnes, England, January 7-9, 2023Profit.
However, as Chinese players suspected of fake balls were temporarily banned 10 people, and many players retired, from the first day of the qualification match, many games could not be carried out, and the original schedule was also disrupted.In the first round of Japan, Japan should be played in 48 games, and only 33 games were actually played.The 48 games that Japan should play in the next Japan actually only played 41.
The day was a two -day round.Chinese players performed well. A total of 12 people advanced to the second round, and in the end, except for the three people lost in the "civil war", the remaining nine people all passed the level smoothly.
In terms of foreign players, the Welsh famous general Ryan, who fought as a TOP16 seed, was worn in the first round. With a large score of 2-1 leading, he lost 5 games in a row and a large score of 2-6.The second round of missed the first round of the first round.
In the subsequent second round of competitions, England veterans Joe Perry, Northern Ireland player Jordan Brown, "Queen of Snooker" Reini Evans, Scotland player Scott Donalson, England playerMany famous players such as Mitchell Man disappeared and missed the third round.
2023 Snooker 6 Red Ball World Championships Qualifications The 2nd competition day is as follows: