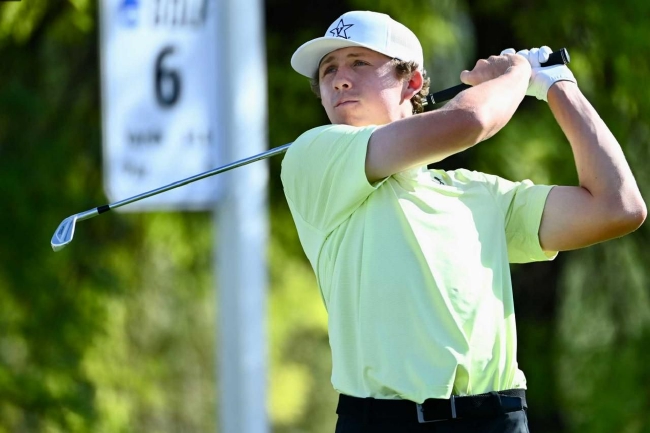 On January 6, Beijing time, the American Masters penetrated into the top amateur players.On Thursday, they sent the foreign card to the NCAA Championship Gordon Sargent.This is the first time for more than 20 years, they have sent their cards to amateur players for the first time.
Augusta also sent the foreign card to Kazuki Higa.The Japanese player won four times at the Japanese tour last year and won the prize king.
A player showed their strength last year. We are looking forward to seeing them in Augusta in April. "
Gordon Sakinte is the third place in the amateur world and is also a rising American university star.
As a freshman of Vanderbilt, he won the Personal Championship of the NCAA Championship last year.He caught the bird in the first hole of the four-person playoffs and defeated Eugenio Chacarra, Parker Coody, and Ryan Burnett.He was selected to enter the Parmer Cup.The confrontation between the competition is college students in the United States and Europe.
The American Masters have been spelling an amateur elite for a long time, and the Walker Cup members have been invited to participate in the 1980s.At present, Augusta invites the US Amateur Championship and runner -up, the British Amateur Championships, the U.S. Middle -aged Amateur Championships, the Asia -Pacific Amateur Championships, and the Latin American Amateur Championship champion directly into the lineup.
The last amateur player who got a foreign card goes back to 2000, Australian player Aaron Baddeley.Aaron Badley, who was only 18 years old, defeated Graig Norman, Moncorli and other famous players to win the Australian Open.
Two foreign cards pushed the current lineup to 80.However, there are only two roads to enter the American Masters lineup. From April 6th to 9th, they won a competition with Federal Express Cup complete points, or the top 50 in the world before the American Masters.
It is not surprising that people's cards are expensive.The American Masters have previously issued foreign cards to international players.These players have spent a wonderful year, but because there is no passage of the US tour, there are not many opportunities to get the American Masters.Last time, Augusta issued a foreign card to international players in 2019, and the Japanese player scored today.
Bijia is ranked 68th in the world. His four daily tourists include November Dunlop Phoenix Goller.That game usually has Japan's most powerful team.